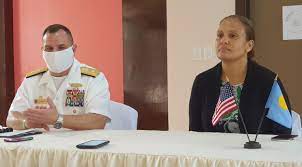 The installation of radar systems in Palau by the United States Defence Department will bring in US$42.3 million into the country's economy, according to Rear Admiral Benjamin Nicholson, the Joint Region Marianas commander.
"There is the US$42.3 million that actually come to Palau as part of the NDAA…That is a separate amount of money. That comes to Palau. And that's specifically for one of the radar sites that we're building here," Nicholson told reporters in Palau.
Nicholson was in Palau for the second Joint Committee Meeting (JCM), the first one this year was held in Guam in May, where military leaders of U.S INDOPACOM hosted President Surangel Whipps Jr and the U.S federal agency representatives.
The admiral said the installation of the radar system will benefit the local economy and local construction companies.
The radar systems will provide Palau with enhanced maritime law enforcement capability in its territorial waters and exclusive economic zone.
Admiral Nicholson said the deployment of military personnel here also brings in tourism to the country.
"And then when military service members come in for the exercises, there's another inject into the economy of those support services. So it's a multifaceted way that I believe Palau benefits economically from this partnership with the U.S military," he said.
Nicholson said that he sees the relationship of Palau and the U.S military further advance and reiterated the nation's importance in a "free and open" Info-Pacific region.
"What I think that you've experienced here over the last several years is increasing military, U.S military exercises, and operations in the area. And that is for a number of different reasons. But one is we are really concentrating our efforts on the Pacific region," he said.
Nicholson also said the U.S military presence in the region also is a deterrent to "nefarious actors" in the Pacific.
"We realise how strategically important Palau is ensuring a free and open Indo Pacific region. There are other nefarious actors that sometimes come into this area. And our presence here helps to thwart that to some degree,"
He added that the U.S is responsible for Palau's defence.
"But also our training opportunities that happen here in Palau are part of a larger, overall arching scheme that we have in the Indo Pacific to ensure that we can defend our partners and in the case Palau, a partner that we defend as if it were the homeland of the United States," he said.
SOURCE: ISLAND TIMES/PACNEWS