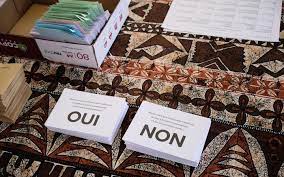 Questions remain over the future of New Caledonia as pro-independence groups refuse to discuss the future of the French Pacific territory with the government in Paris, until after the 2022 French presidential election.
On paper, the result from Sunday's referendum appears clear cut, with 96.49 per cent of voters choosing to stay with France.
However, the final result was distorted by the small turnout.
Only 43.9 percent of eligible voters headed to the polls, after pro-independence groups, made up mainly of indigenous Kanak people, had called for a boycott of the referendum after France declined a request to delay the ballot to allow for a traditional mourning period following a surge in COVID cases in September.
The previous votes in 2018 and 2020 saw participation levels at more than 80 percent.
Pro-independence groups have refused to enter into discussions until France's presidential election in April next year, which means the future of the Pacific territory is now undecided.
For many Kanak people, the desire for independence is linked to their hopes that the territory's violent colonial legacy will be acknowledged and can be reconciled.
Emmanuel Tjibaou, who's father Jean-Marie was the leader of the Kanak independence movement before being assassinated in 1989, believes New Caledonia will eventually become independent.
His grandfather was just 10 years old when the French military killed members of his tribe for refusing to participate in World War I.
"It's quite a long way for us to go but we still believe that our country will stand free," he told Pacific Beat.
"We believe our future will never go under the French flag."
Paul Fizin, a linguist with the Kanak Language Institute, says the territory is divided.
"For lots of Kanak people, this election is an electoral hold up," he said.
SOURCE: ABC/PACNEWS