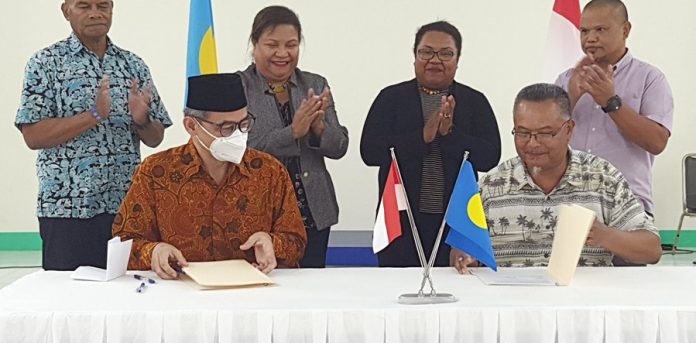 Palau last week received 10 police vehicles and four protocol cars from The Indonesian government in support of preparations for the upcoming Our Ocean Conference in February.
The donation of vehicles amounting to almost US700,000 will assist Palau's public safety and protocol functions.
The Indonesian government was represented in person by Minister-Counselor Isman Pasha at the handover ceremony on Wednesday.
Vice President and Minister of Justice J Uduch Senior said the donation will help expand Palau's law enforcement security and patrol capabilities during the seventh Our Ocean Conference which will be held here on 16 -17 February 2022.
The vice president said aside from the vehicles the Indonesian government also provided Palau protocol training.
"Our friend Indonesia has lent us the resources of its learned experts in the field of protocol training to expand our own law enforcement officers capacity to coordinate and supplement security protocols for the upcoming conference. Thank you for that training. This assistance is not only timely but very much appreciated, and it is a positive step forward in cultivating a strong friendship with our southern neighbors, strengthening regional ties in order to coordinate bolster and support cohesive regional security and safety," Senior said.
Minister Counselor Pasha said the opportunity to be able to hand over the donations to Palau is a "rare privilege" amid the coronavirus pandemic.
"The grant that we are bringing in and handing over to the government of Palau today is one manifestation of a strong commitment of Indonesia to support the Republic of Palau."
Indonesia hosted Our Ocean Conference in 2018.
SOURCE: ISLAND TIMES/PACNEWS