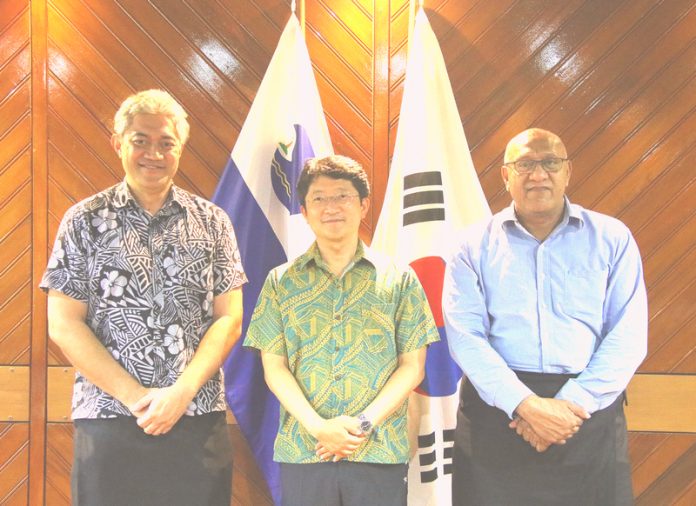 The Pacific Islands Forum Deputy Secretary General, Filimon Manoni, and Young-kyu Park, Ambassador of the Republic of Korea, have Tuesday signed a new project to support coastal and marine planning under the Republic of Korea – Pacific Islands Forum Cooperation Fund.
Valued at US$D1.8 million, the three-year project will be implemented by the Pacific Community (SPC), the Korea Institute of Ocean and Science Technology (KIOST) and the Pacific Islands Forum Secretariat (PIFS).
In the face of the climate change crisis and other ocean threats, the project will support Pacific Island countries to use geospatial technology to support the sustainable management of ocean resources. The project will include needs assessments in the 14 Pacific Island Countries, identification of vulnerable coastal areas, and the development of geospatial tools to build data and evidence for marine and coastal planning.
Representing Forum SG Henry Puna at the signing, the PIF Deputy Secretary General Filimon Manoni said, "Our Blue Pacific region faces unique challenges in managing natural resources and biodiversity, securing economies and livelihoods, and ensuring sustainable food systems. Better data and information are needed to support effective decision making and policy development, especially against the existential threat of climate change."
Ambassador Young-kyu Park said, "this project is designed to support and accelerate action on SDG 14 on Life below Water and the implementation of the Framework for the Pacific Oceanscape, approved by Pacific Leaders in 2010. The project will also support implementation of national ocean policies launched in recent years including in the Cook Islands, Vanuatu, Solomon Islands and Samoa.
The SPC representative Dr Paula Vivili, Deputy Director-General Science and Capability (Suva) said: "utilising remote earth observation technologies has tremendous potential to unlock accessible data for the Blue Pacific. We welcome this support from the Republic of Korea, and the opportunity to work in partnership with KIOST, to bolster our Pacific Islands Ocean science tools and support to Member countries".
The Republic of Korea-Pacific Islands Forum Cooperation Fund was established in 2008 to enhance and strengthen the partnership between Korea and the Forum Island Countries. For over a decade, it has supported regional priorities by supporting Pacific regional organisations to deliver on Forum Leaders' priorities including climate change, oceans and fisheries and economic development.
SOURCE: PIFS/PACNEWS