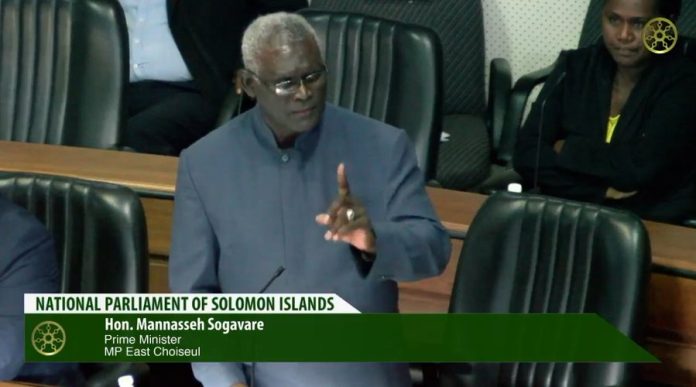 The motion of no confidence and calls for Solomon Islands Prime Minister Manasseh Sogavare to resign are made against the backdrop of an illegally attempted coup.
Sogavare made this comment in Parliament Monday during the motion of no confidence vote against him as Prime Minister.
He said what happened on Wednesday 24 November was an attempted coup to overthrow a democratically elected government.
"The plan was to attack this very house and lock us in until I resign.
"It was illegal and immoral and an attack on our sovereign nation.
"We know the people who plan this. It is sad that they do not have regard for the rest of our people and country.
"But we need to ask ourselves, who planned this attempted coup. Was it planned by foreign interests and their agents?
"And whose interest was this attempted coup made?
"Thinking not for Solomon Islands for that matter but the interest of Taiwan. The premier of Malaita Province confirmed this when he was interviewed by a Taiwanese newspaper which was published online by the Washington Post," Sogavare said.
Therefore, he said the instigators of the protest cannot divorce themselves from the responsibility for the violent and deadly aftermath of the recent riots.
"The riots would not have occurred without the protest that quite literally sparked. The recent riot is on them, the consequences of the riot are on them and them alone," Sogavare said.
He said as a Prime Minister he had done nothing, and the motion did not even state the grounds why he should be removed.
"I have not done anything wrong as a Prime Minister and I still command the support of the majority of the Members of Parliament despite what the members on the other side think and say.
"Interestingly, the reasons are very personal against the Prime Minister.
"The reasons we heard especially by the Member of Parliament for Small Malaita in accusing me of corruption," Sogavare said.
Sogavare said to accuse him of corruption is an attempt to tarnish him, something he would not allow.
He said the recent violence, intimidation and fear is an attack on the principles of democracy and the rule of law.
"I cannot resign and bow down to the forces of evil…we cannot entertain violence being used to tear down a democratically elected government.
"To all men, women, youths and children this is a time to stand united. We must never fall into the trap of the past.
"This is a democratic country with a democratically elected government in power and if I am to be removed it must be by the legal process and it must be by members of parliament and not by calls to resign by Taiwan's agents," Sogavare said.
The motion of no confidence against Sogavare was filed by the MP for Auki/Langalanga and Opposition Leader Matthew Wale.
SOURCE: SOLOMON STAR/PACNEWS