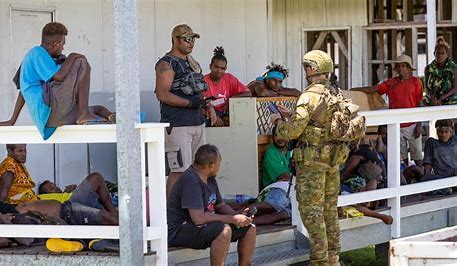 The leader of the Solomon Islands' most populous province says Australia's deployment of soldiers and police to the country following violent protests is unwelcome and being used to defend a "corrupt" government.
Dozens of buildings were burnt down and shops looted in the capital's Chinatown as protests against Prime Minister Manasseh Sogavare turned to rioting in which three people died.
Many of the protesters were from Malaita province, which has a history of disputes with Guadalcanal province where the national government is based and which opposed the switch by Sogavare's government in 2019 to formally recognise China instead of Taiwan.
Malaita's Premier Daniel Suidani has banned Chinese companies from the province and accepted development aid from the United States.
The arrival of 100 Australian police and soldiers on Friday, and a contingent of 50 from Papua New Guinea, to support overwhelmed local police have largely restored calm, but tensions remain high.
"Australia can help but not like this, through an intervention force, it's not helpful," Malaita province Premier Daniel Suidani told the ABC.
"This intervention isn't good because it's keeping a corrupt Prime Minister in power," Suidani said.
"Australia is holding up a corrupt leadership … Australia should not be keeping this guy in power," he added.
"When the Australian police came here, to us, we see they come here under Sogavare's request to defend him in power," he said.
"We see this as they are defending the government that the people do not like … and when Australia comes in, they come in support to the government that people see is corrupt." he told SBS
Prime Minister Scott Morrison has said Australia is not "interfering in their democracy" and wanted to provide a stable environment so the people of the Solomon Islands could resolve the situation peacefully.
But Suidani said the involvement of foreign troops would see Sogavare "avoid dealing with all the issue[s] that need to be dealt with."
"Now it means there will be no dialogue, [Sogavare] will just avoid dealing with all the issues that need to be dealt with.
"This is an internal issue that needs to be dealt with rather [than] bring in Australia, PNG and Fiji."
Suidani said local frustration has been building for some time, and people want a change of government.
"They feel the government is no longer trusted for leadership."
Astralian Home Affairs Minister Karen Andrews on Monday said the role of Australia's support in Honiara was strictly of a peacekeeping nature.
"Our mission to the Solomon Islands is very clear: we are there … to do all that we can to restore the stability in the region and to protect people and critical infrastructure," she told federal parliament.
"We have made it very clear our role from Australia is not to involves ourselves in domestic and political situations that are arising in the Solomon Islands," she said.
Fiji said on Monday it would send 50 troops on Tuesday.
"Another 120 troops here in Fiji will remain on standby for deployment if needed to help maintain security," Fiji's Prime Minister, Frank Bainimarama, said.
Kerryn Baker, from the Australian National University's Department of Pacific Affairs, said it was "a sign that Australia is a partner of choice for the Solomon Islands and the wider Pacific region".
"I think that it shows Australia's soft power in the region," she said.
"That is not something that you can accumulate immediately, it takes a long time. It also shows that it is important for Pacific island governments to have options.
"They like having options – just because they move close to China doesn't mean they want Australia to just go away."
Solomon Islands Red Cross Secretary General Clement Manuri however warned of food shortages in Honiara.
He said most of the stores where people bought food staples had been destroyed in the protests and food was becoming scarce.
"We're having meetings now with the [National Disaster Management Office]," he said. "It's not clear but soon, in certain crowded places, maybe they'll run out of food," he said.
SOURCE: SBS/ABC/PACNEWS