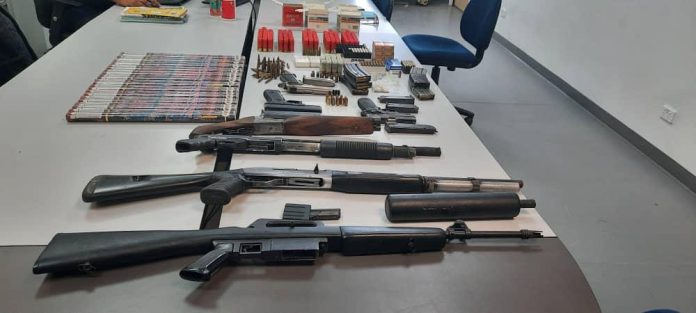 Papua New Guinea Police have busted a drug trafficking and methamphetamine (meth) underground operation based at the Sanctuary Hotel.
In a raid on the hotel on Tuesday last week, police seized five firearms, several rounds of ammunition of various calibre, meth, cannabis, ingredients and utensils used for manufacturing meth in several rooms.
Police Commissioner David Manning said hotel owner Jaime Pang, 43, had been arrested, detained for investigations and charged in the Boroko district court.
Pang pleaded guilty to all charges before Magistrate Garry Unjo on Friday.
Unjo fixed Friday for submissions on sentencing while Pang's lawyers will submit an application for bail on Wednesday.'
In a police video, Pang, who is also the hotel's operations manager, was standing next to ACP (special operations) Donald Yamasombi and heard saying "there is a whole lot of bigger things at play".
Manning told The National on Friday that Papua New Guinea was becoming a "safe house" for drug traffickers with inadequate drug laws to prosecute those nabbed.
He said following the arrest of Sean Anthony Honey, 31, in operation "Saki Bomb" in late September, another arrest under the same operation was made last Tuesday and Pang was detained after the raid and seizure of firearms and drugs.
Pang was slapped with 11 charges, three for possession of firearms without licence, two for possession of firearm and six charges for possession of live ammunition.
Manning described the discovery of a "clandestine laboratory" as a job well done by the team who consisted of police and Customs personnel.
"The team continues to work towards the goal of ensuring all those involved in the underground drug trafficking syndicates will be dealt with," he said.
"Search warrants were obtained and executed at the raid on the hotel in Port Moresby's North Waigani."
Manning said five rooms were searched, including the room occupied by Pang and accessible only by code.
"Upon entry, three handguns, loaded with 9mm and 40 calibre live round of ammunition, 12 gauge cartridges, 5.56mm live ammunition, 9mm live ammunition, 40 calibre live ammunition, precursor materials and equipment, including high powered rifle magazines loaded with live ammunitions and some quantity of white substance believed to be illicit meth," he said.
An opposite room was also searched and the illegal drug processing laboratory was discovered."
Manning said a forensic team and scientist entered the room and found quantities of meth, precursor materials, meth production utensils, cannabis and four firearms wrapped in old clothes under a bed.
"Outside in what is known as a storage facility for the hotel, 12 gauge cartridges, .22 live ammunition and other items were seized by police," he said..
SOURCE: THE NATIONAL/PACNEWS