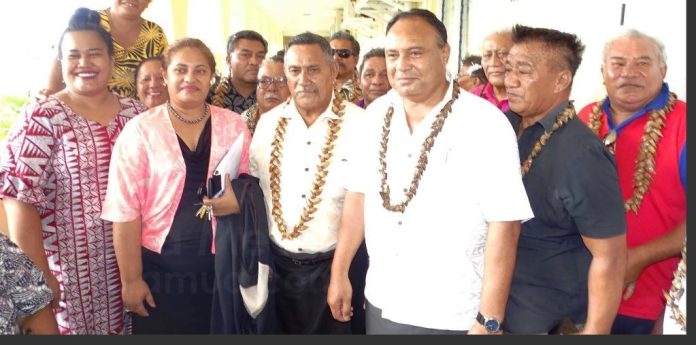 Fuiono Tenina Crichton is the new Samoa Member of Parliament for Falealupo following the Supreme Court decision Monday to disqualify Tuitogamanaia Dr. Peniamina Leavai from the by-election.
The Fa'atuatua ile Atua Samoa ua Tasi (FAST) party candidate filed a petition questioning the eligibility of his rival and Human Rights Protection Party (HRPP).
Chief Justice, Satiu Simativa Perese and Justice Niava Mata Tuatagaloa handed down the decision in a packed courtroom on Monday afternoon.
In their decision, the Court ruled that Tuitoga does not satisfy a requirement to render service to the church due to the matafale that he serves belongs to his father, Aeau Peniamina Leavaiseeta.
Chief Justice Perese said Tuitoga's voluntary contribution to the EFKS church in Falealupo is not attributed to him but rather his father and he is therefore disqualified from contesting the by-election.
The decision means that the constituents of Falealupo will not head to the polls this Friday while six other constituencies return to the voting booths to decide their MP for the second time this year.
Now that FAST has secured another seat in parliament, the hopes of the former government led by HRPP to return to office are slim after losing another seat that it previously held in April.
FAST now holds a 27-seat majority in the parliament including the Speaker while HRPP has its numbers at 18 seats.
Fuiono is a first-term parliamentarian that lost the April's election to Aeau Tima Leavai who is the sister of Tuitoga.
Aeau was forced to vacate her seat in parliament when Fuiono lodged a post-election petition alleging bribery and treating against the female winner.
She later resigned from office and agreed to forego a by-election that followed after as part of a deal to drop the legal actions against her.
SOURCE: SAMOA OBSERVER/PACNEWS