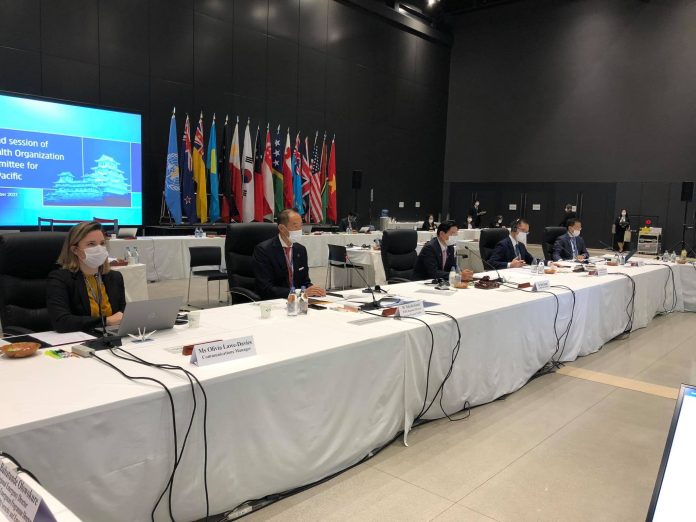 Health ministers and senior officials from countries and areas across the World Health Organisation (WHO) Western Pacific Region are gathering this week to agree on actions to address COVID-19 and other key health issues.
The seventy-second session of the WHO Regional Committee for the Western Pacific is being held as a "hybrid" meeting on 25–29 October, with over 50 senior country representatives, including some ministers of health, and WHO staff participating in Himeji and more than 220 others joining the meeting virtually.
In his remarks to the region's health leaders, the WHO Regional Director for the Western Pacific Dr Takeshi Kasai said, "While 2021 has been very challenging, there are many things that give me hope. When I became Regional Director almost three years ago, I said then that I was optimistic, because our Region is home to extremely dedicated staff, committed Member States, caring health care workers, and very capable partners. COVID-19 has shown all these things to be true."
"And while many things in the world have changed dramatically in the past two years, some have not, including this Region's unifying belief in health for a sustainable future – and the importance of thinking about our own actions and how they affect the health and wellbeing of others. I look forward, with hope and confidence, to continuing our work together towards making the Western Pacific the healthiest and safest region in the world," Dr Kasai added.
In his address to delegates, Japan's Minister of Health, Labour and Welfare, Shigeyuki Goto, said "Among the G7 nations, Japan has the lowest number of COVID-19 deaths, and we were able to safely host the Tokyo 2020 Olympic and Paralympic Games thanks to all the preventative measures taken, including a focus on the "3 C's" – avoiding closed spaces, crowded places and close-contact settings. Japan will continue to move forward to achieve a balance between infection control and a resumption of daily life—gradually easing restrictions while keeping people safe from the spread of the virus. As Minister of Health, I know that facing health challenges in the Region and working together with WHO and our neighbouring countries is an important part of this."
In a video address to the Regional Committee, WHO Director-General Dr Tedros Adhanom Ghebreyesus, said, "WHO remains committed to supporting each of your countries to respond to the pandemic, and to build forward better, in line with the General Programme of Work, and the Region's For the Future vision. I would like to leave you with three specific requests: First, we seek your commitment to stay the course with the proven public health and social measures that we know work, in combination with equitable vaccination. Second, we seek your support for the idea of an international agreement on pandemic preparedness and response. And third, we seek your support for building a stronger WHO that is empowered and financed sustainably."
On the first day of the meeting, delegates discussed COVID-19 in the Western Pacific Region, with WHO briefing them on the situation and joint work by its Regional and country offices, alongside partners, to support their response. Delegates shared updates on their countries' situations and needs.
Since January 2020, WHO has provided tailored support to Member States as they tackled COVID-19. The response in the Western Pacific has been guided by the Asia Pacific Strategy for Emerging Diseases and Public Health Emergencies (APSED III), leveraging strong cooperation and capacity built up over the past 15 years. Member States have been adjusting their pandemic response based on continuous learning from experience and the latest evidence, as well as expert recommendations from the WHO APSED Technical Advisory Group meetings convened in July 2020 and July 2021.
WHO has provided technical support and evidence-based guidance on critical topics, deployed over 360 experts to 14 countries, procured and shipped supplies and equipment such as masks, testing kits and vaccines, and supported communication to help people protect themselves and others from the virus.
Later this week, regional health ministers and senior officials are expected to adopt resolutions:
• To achieve goals to reduce tuberculosis infections and deaths in the Western Pacific;
• To promote the development and health of children and adolescents in school settings, as a means of entrenching lifelong healthy habits; and
• To harness the role of traditional and complementary medicine for health and well-being.
Delegates will also consider the Region's progress in areas, including:
• Strengthening health security, including tackling antimicrobial resistance;
• reducing the burden of noncommunicable diseases and enabling healthy ageing; and
• implementing the vision for WHO's work, For the Future: Towards the Healthiest and Safest Region.
State Minister of Health, Labor and Welfare of Japan, Hiroshi Yamamoto was elected Chair of this year's Regional Committee, and Minister of Health, Social Welfare and Gender Affairs of Tuvalu, Isaisa Taape was elected Vice Chair.
SOURCE: WHO/PACNEWS