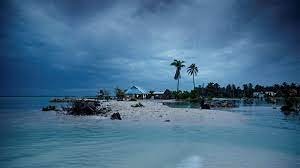 For Xavier Matsutaro, getting to the Scottish city of Glasgow for the COP26 climate conference will be one of the longest journeys of his life.
It will take about four days for the negotiator to travel from Palau, a Pacific Island nation between the Philippines and Hawaii, to Scotland as he joins an international migration of some 25,000 delegates from almost 200 countries heading to the UK for the summit, which runs from 31 October to 12 November.
"We are flying from here to Guam, then to Hawaii, then to Texas or something — somewhere in the mainland US — then from there to Frankfurt and from Frankfurt to Glasgow," said Matsutaro, the national climate change co-ordinator for Palau. "It is quite a journey."
Matsutaro's trip, and those of thousands of other delegates, has been complicated by the closure of more straightforward routes amid Covid-19 travel curbs — ironically making the environmental impact of the summit itself worse.
COP26 is the biggest diplomatic summit to take place face-to-face since the coronavirus pandemic shut down travel. Its goal is to finalise the implementation rules of the 2015 Paris climate accord, which aims to limit global warming to well below 2C compared with pre-industrial levels. About 120 heads of state, including U.S president Joe Biden, will attend.
For the delegates, who represent the 197 countries that endorsed the Paris agreement, getting there means navigating Covid-19 restrictions, quarantines and vaccination requirements as well as visa rules.
The journey is particularly challenging for some of the countries most affected by climate change: a group of 14 Pacific Island nations on the opposite side of the planet to Scotland that even in normal times would face convoluted routes to reach Europe.
These nations, many of which are part of low-lying and exposed archipelagos and see climate change as an existential threat, are small but have historically had an outsize influence at the annual COP summits. They are part of the Alliance of Small Island States (Aosis), a powerful bloc of 39 countries that often vote as a unit at COP, and are among the loudest voices calling for climate action.
Tina Stege, a climate negotiator for the Marshall Islands, said she was still in discussions with colleagues on whether the country would be able to send a delegation to Scotland or instead send representatives from overseas embassies. The Marshall Islands has a four-week quarantine period for anyone entering the country, making it inconvenient to leave and come back.
"The Pacific has historically been one of the highest voices for climate ambition, for limiting global warming to 1.5C [above pre-industrial levels]," said Stege. "It would obviously be a blow if any of our folks from the Pacific were not there."
The logistical hurdles mean that so far only about six of the 14 nations are planning to send representatives to the summit from their capitals, according to Tagaloa Cooper-Halo, director of climate change resilience at the Secretariat of the Pacific Regional Environment Programme, a regional co-ordination group. Others, including Kiribati, Vanuatu, Tonga and Samoa, will be represented by delegates from their overseas missions.
"Right now most of the Pacific is locked down, and has been since about March last year," Cooper-Halo said. "The Pacific has found it really difficult to find ways to get there, given the global pandemic."
The Cook Islands will not send anyone. A spokesman said that "the pandemic, and the recent resurgence of Covid-19 cases in countries that are transit points for the Cook Islands", meant travelling to the UK could not be done in a way that guaranteed the health of Cook Islanders.
The UK government said it was working on developing a platform for virtual participation at the COP26 and "working closely with international partners, and the [UN climate change division]" to help all delegations reach Glasgow. "We are determined to ensure COP26 is an inclusive event in which all countries can participate," said a spokesman.
Fiji's Prime minister Voreqe Bainimarama is planning to travel to Glasgow — the first time he has left the country since last year. "It goes to show how significant the COP is for us," said Aiyaz Sayed-Khaiyum, Fiji's Attorney-general and the minister responsible for climate change. "It is a long trek. We are working to find the best route."
The travel emissions associated with COP have grown over the years, along with attendance. Although the host country typically pays for offsets to compensate, some critics accuse delegates of hypocrisy for travelling such long distances to participate.
Australia and New Zealand are normally transit hubs for many Pacific islands, but both have stringent quarantine requirements, including for transit passengers.
The Australian and New Zealand governments confirmed they were working with Pacific Island countries to help them reach Glasgow. Options include assisting with flights, quarantine places and financial support, the Australia's Foreign Affairs and Trade department said.
Canberra's help comes even though the country's prime minister Scott Morrison has signalled he might not attend COP26. Morrison has been widely criticised for failing to set higher climate targets for Australia.
Achim Steiner, head of the United Nations Development Programme said: "It would be ironic if small island developing states are not able to participate [at COP26]. "They are a group of leader countries within the convention…. And…. are the major potential victims [of climate change]."
The Pacific Islanders who are able to travel to Glasgow are already packing their bags for the trek. The Palau delegation this year will have 25 members — its largest ever — including the president.
"This issue [climate change] is just so urgent for us," said Matsutaro, who flies out next Monday. "Covid-19 … is not going to stop us going," he said.
SOURCE: FINANCIAL TIMES/PACNEWS