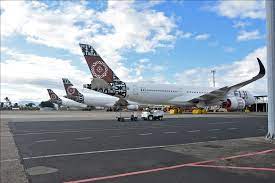 Fiji's international border will re-open to its travel partner countries from 11 November, 2021.
Prime Minister Voreqe Bainimarama while announcing the easing of COVID restrictions Sunday said Fiji's list of travel partners includes Australia, New Zealand, United States of America, United Kingdom, the United Arab Emirates, Canada, Qatar, Germany, Spain, France, the Republic of Korea, Singapore, Switzerland, Japan and most Pacific island countries and territories.
Bainimarama said there will be no traditional quarantine requirement however there will be different sets of protocols for tourists, for residents, and for those visiting friends and relatives.
"Tourists from travel-partner countries will have no quarantine requirement from 11 November onward ahead of our official reopening on 01 December.
"Instead, after showing proof of vaccination and testing negative for the virus 72 hours prior to their departure, they will arrive in Fiji and head straight to their hotel," he said.
He said for returning residents from travel-partner countries or those visiting friends and relatives, our protocols are a bit different.
"These travellers will want to leave the travel-safe areas, and they can. After spending three days on hotel premises in Fiji, a negative COVID-19 test result will allow these travellers to enter Fijian communities in any location."
Meanwhile, Tourism Fiji has welcomed the new measures and relaxations announced by the Prime Minister.
Chief executive, Brent Hill says the tourism stakeholders have been preparing for this day for a very long time.
Hill said by working together collectively they made sure that they are ready when the border re-open.
Now with a definite date that travel will resume from 11 November, Hill said from an industry perspective they can now go out and put offers.
The CEO highlights they have the careFIJI commitment and there are already 320 wellness ambassadors.
He said 140 plus business are 100 percent fully vaccinated and as a result they have already started receiving bookings.
"We are communicating to the world that we are now open. We have these amazing value packages that we've heard about already. And when you couple that with this very clear protocols that's happening in Fiji then tourists know that it's very safe to travel. But I think the number one thing of course is that Fiji is still as beautiful as ever and I think that is the really important thing."
Hill said Fiji has everything that people are looking forward to which includes family travelers, adventure, luxury and the beautiful combination of beaches, sun and sand.
SOURCE: FIJI TIMES/FBC NEWS/PACNEWS