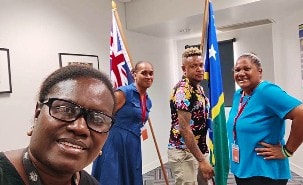 The Australia Pacific Security College (PSC) in collaboration with the Media Association of Solomon Islands (MASI) have commenced a National Security Reporting Course for journalists based in Honiara and Gizo.
"Leading the National Security Conversation" will be the topic of discussions for these journalist participants over the next four weeks.
Speaking at the opening programme, MASI vice-president Douglas Marau in his welcome remarks said the issues of national security surrounding climate change, geopolitics and resource security would be the main topic for discussions during the duration of the course.
Marau also briefly highlighted the National Security Strategy document launched by the Government in November last year and the need for the media to align itself to the strategy as an important partner in national security reporting.
He said the media plays an important role in national security reporting.
"I believe some of the important interrogations that will surface during our discussions will include the important role media plays in the governance of the security sector; as well as the challenges that impede the media's ability to provide effective oversight over security institutions," he said.
The MASI vice-president also highlighted challenges faced by journalists reporting on security issues, which includes restriction to certain information for public dissemination and the vulnerability because of modern technology and the free flow of uncensored information on social media platforms.
On the other hand, he said the media also has a duty of care and responsibility to make sure they release information that will not cause anxiety, fear and information that is a threat to national security.
"Nevertheless, the media and security sectors are mutually dependent on each other. The media plays an important role in our national security and this is the most important feat that must be acknowledged," Marau said.
Other speakers in the opening session are Professor David Gegeo, Head of Humanities and Science at the Solomon Islands National University (SINU) and Professor Meg Keen of the Australia National University (ANU).
Dr Steve Sharp, owner of TME Media and Education Services, a Sydney based consultancy is leading the course while MASI President Georgina Kekea is facilitating the sessions locally.
Participants to this course will have the opportunity to reflect on the importance of reliable reporting and the timely flow of information – all of which are vital for the strength and security of the Solomon Islands.
The objectives of the course are to enhance participants' journalistic and communication skills in reporting and conveying information on security issues.
PSC has worked with senior editors in the Solomon Islands media to identify the topics of priority to use as case study material to ensure relevance and a degree of realism.
MASI acknowledges the support provided by PSC especially by its staff Jay Caldwell and Kalei Billings – Dugucanavanua.
The MASI Board also thanked the Editors of the mainstream media for their input in this NSR course.
For enquiries, please contact: Georgina Kekea
President, Media Association of Solomon Islands (MASI)
Mobile:(677)77 57 526
Email: ginakekea@gmail.com
SOURCE: MASI/PACNEWS