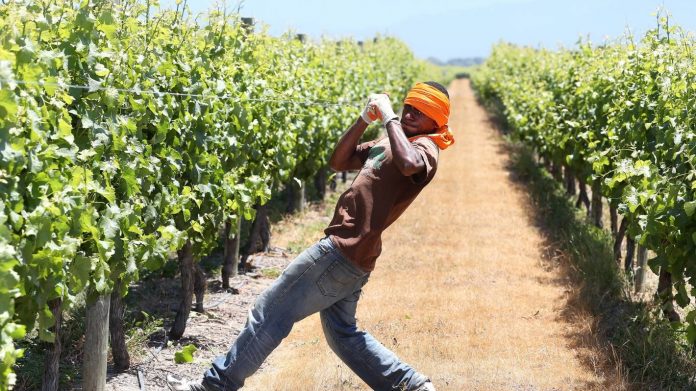 Seasonal workers from Vanuatu are happy to be able to bypass managed isolation and quarantine (MIQ) when the new one-way RSE travel bubble with New Zealand begins in October, Vanuatu consul-general McKenzie Kalotiti says.
At Monday's post-Cabinet press conference, Prime Minister Jacinda Ardern confirmed RSE workers from Vanuatu would be able to skip MIQ from 04 October.
Quarantine-free entry would be extended to RSE workers from Samoa and Tonga from 12 October.
Instead of a two-week stay in MIQ, workers would complete a five-day isolation period at their place of work and undergo day zero and day five Covid-19 tests.
To be eligible, workers must have had at least one dose of the Covid-19 vaccine before travelling and those who were not fully vaccinated must complete the process in New Zealand, Ardern said.
Kalotiti said 150 RSE workers from Vanuatu would arrive in Christchurch on 04 October.
"We're happy to see the commencement of the one-way bubble for our RSE workers, MIQ is a difficult experience for them,' Kalotiti said.
The workers would be based in the South Island where there was no risk of Covid-19 in the community, he said.
This was important for the workers who were coming in from a country that has had no Covid-19 cases in a while, he said.
"We know that both the New Zealand government and the employers work very hard around safe Covid protocols for our workers who are grateful for the opportunity to still be able to come to NZ and participate in the RSE scheme.
"Almost all our workers currently in New Zealand have been fully vaccinated and those coming into Zealand will have at least one dose of the vaccine, until January when they will be required to have both doses."
He said Ni-Vanuatuans knew the huge responsibility put on them to establish the one-way RSE travel bubble.
"This is a big step to also helping those back in Vanuatu understand the importance of being vaccinated as the government continues to vaccinate the population."
On Monday, Ardern said the Government's intention remained to broaden eligibility for quarantine-free travel from Samoa, Vanuatu and Tonga, as well as Tokelau.
"Starting with RSE workers enables us to trial what is a pseudo-form of shortened isolation in order to ensure safe entry to New Zealand and access both for these workers and for employers," she said .
SOURCE: STUFF NZ/PACNEWS