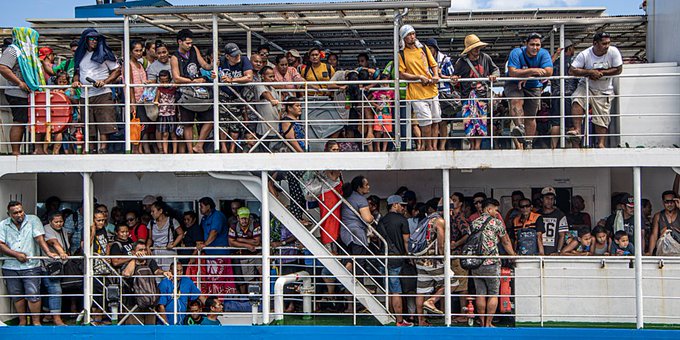 -Voters from the big island of Savai'i have applauded new amendments made to the Electoral Act, passed in Samoa Parliament on Tuesday night aimed at providing clarity about candidates' eligibility and how to conduct elections and by-elections.
They were happy specifically with the decision to bring back special voting booths, to cater to voters in the rural areas and Savai'i- which were not used during April's general election.
This will be applied first in the seven upcoming by-elections which had been the results of election petitions.
The removal of special voting booths by the former Government meant voters were forced to return to their electoral constituencies in April's election to cast their ballots.
The changes brought a lot of challenges to rural area voters who had to travel by ferry to Savaii prior to the polling day to cast their votes.
Some expressed their disappointment over the changes that caused a lot of inconveniences and increased costs for voters who had to travel back and forth on the crowded ferry service to Savai'i with no public transport operating at the time.
Ausage Paula from Safune said he fully supports the idea of recreating special booths in Upolu for Savai'i voters to cast their ballots.
"It has always been that way," he told the Samoa Observer.
"We have all seen what happened in the elections in April with so many of our people stranded on the wharf waiting for a ride to their villages. The boats were packed and it was also costly.
"I mean if you are a Savai'i voter and you work in Apia. Having to travel over to Savai'i to cast your vote does not mean you will come alone.
"You will need to bring your whole family and your children as everyone must be in Savai'i. You would need something to bring for your families here in Savai'i and make sure you have enough money for your stay in Savai'i and for when you return back to Upolu."
Ausage thought that the former administration did not consider all those areas when they decided to stop having special booths to cater to voters in Savai'i.
Iuau Tofa from Saipipi said that she is happy there will be one day for pre-polling.
"I thought it was weird that we had four days for pre-polling than the main election day," she told the Samoa Observer.
"Surely, the majority of our voting population cast their votes on the main day rather than the pre-polling dates. It was also confusing as well because they had to announce results at the end of each day starting from day one up to the last day of pre-polling.
"It misled the other candidates and supporters who were leading in the first few days. So if the government has decided to change that aspect then I fully support the decision.
"It will make things easier not only for the voters but also for the officials working all throughout the week. Mind you, the villages where the voting booths were set up had to look after and take care of the officials assigned to the different villages.
"So it was a lot of work for everyone."
Another happy voter is Faleupolu Fa'asi'u from Faletagaloa who said that they are happy with the new changes made to the Act.
"I think most of the families here in Savai'i can agree with me that we were all busy all throughout the week of elections in April," said Faleupolu.
"Not only do we have our own obligations, but we had to make time to clean up and prepare to host our relatives coming from Apia so they can cast their votes.
"While we enjoy having relatives over and would love every opportunity we have to get together, we all know that it's not easy when we host families.
"Not only for the people coming but also for us, the hosts. We need to make sure that they are well-fed and make sure they enjoy their stay. But if what you are telling me is true that they are bringing back special booths, then I am really glad.
"It will save a lot of money, time, and effort.
Another happy voter is Tuaipulotu Tuita'ase Peleti who said that this was a great start to the new administration's leadership.
"I think the former government made a huge mistake by stopping special booths," he said.
"We all saw what happened on Thursday and Friday with people rushing over to Savai'i. Boats were operating all throughout the day and were packed with thousands of voters.
"Many people were stranded at the wharf from morning till noon trying to find ways to get home.
"Clearly people were frustrated and annoyed because of such an experience and I honestly believe it really pushed people away from voting for them in April.
"Especially for the voters in Savai'i.
"People were calling for a change, and this is a positive change, a change that will benefit our people and not just the ones in Upolu, but also for us in the rural areas and Savai'i."
The amendments were made to address issues from the recent election to make it easier to go through the election process.
SOURCE: SAMOA OBSERVER/PACNEWS