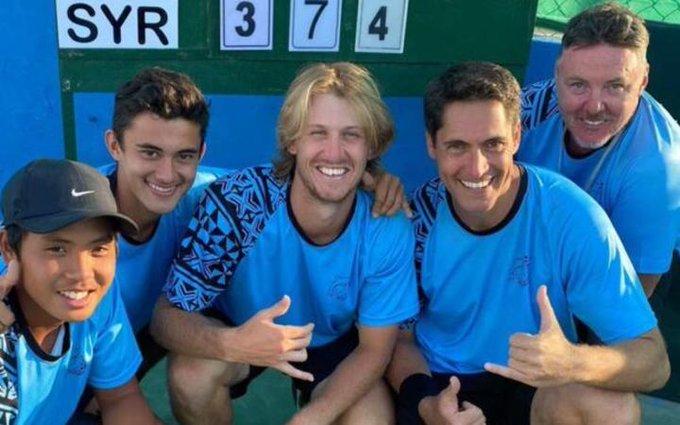 The Pacific Oceania men's tennis team is celebrating a Davis Cup promotion that's been almost a decade in the making.
The regional team beat Syria on Saturday to clinch promotion from Asia Oceania Group Three, alongside Hong Kong and Vietnam.
They'll contest the Davis Cup World Group Two Play-offs in February for one of 12 spots in the main draw.
Cook Islands veteran Brett Baudinet was a part of the Pacific Oceania team promoted to Group Two back in 2009, before being relegated three years later.
"(It's been) a long wait, a long battle so it's great, and especially with two young boys (Vanuatu's Clement Mainguy and Heimanarii Lai San from Tahiti)," he said.
"It's their debut so what a great way for them to start, winning our Group Three and helping the team move up to Group Two."
Pacific Oceania has won all six head to head match-ups against Syria, dating back to 1996, but had to pull out all the stops in Amman, Jordan to keep their streak alive.
Clement Mainguy was beaten 6-2 6-1 by Hazem Naw in the opening singles rubber but the Vanuatu teenager was praised for his performance against an unexpected opponent.
"Syria actually flew in their top player just for the last day…because he wasn't seeded as high he actually had to play the number two singles against Clement, so he obviously had a very tough one to come into the finals," Baudinet explained.
"But it all adds up because obviously the guy he played played in the doubles too and taking it to him on the singles doesn't make it any easier for them going in the doubles."
Colin Sinclair from the Northern Marianas levelled the tie with a 7-5 6-7 6-4 victory over Kareem Al Allaf in the second singles rubber before linking up with Baudinet for the decisive doubles clash.
The experienced duo won the opening set 6-3 and were a break up in the second before succumbing in a tiebreak.
But they held their nerve in the decisive set to prevail 6-4 and clinch promotion to Group Two for the first time in a decade.
"They were actually up a tie break at the start at 2-1 serving at 40-15 and we managed to play a couple of huge points and broke them back then held on to 4-all where we're up the net and a huge net point," Baudinet said.
"They tried hitting a passing shot pass Colin and he clipped it off the corner of his racquet and it fell over the net for a drop shot winner, so that ended up putting us up 5-4 and then we broke them to take the victory so it was awesome."
The Pacific Oceania team ranges in age from 18 to 39 and the youngest member, Mainguy, learnt a lot from his first experience of Davis Cup at senior level.
"As a junior it was actually my first tie as well, Junior Davis Cup against Vietnam. That time I won in three sets so that brought back memories as a junior and then it was such a close game (in my senior debut)," he said.
"I had a match point against the Vietnamese guy in the third set. I didn't manage to pull the win but it was just a great first match and very encouraging."
Mainguy secured his first singles win against Qatar before a tough outing against Syria, but said the whole experience was amazing.
"I saw what Davis Cup is all about: these close games, one-all deciding doubles and I was on the sideline with Heimanarii just watching, supporting, stressing and all the emotions you go through when you support. It was an amazing experience."
Lai San was a late call-up to the squad and made his on-court debut in the doubles defeat by Qatar.
The 20 year-old was grateful to be even considered for selection and learnt a lot over the past week.
"Hopefully I can get some more but we don't know as of now, but it was great. I was surrounded by so much experience, like from Brett and Colin, and it was just great to see how they perform on court and everything."
Colin Sinclair is already up to seventh on the list of all-time Davis Cup wins for Pacific Oceania, with 14 wins 16 attempts across singles and doubles since making his debut in 2017
The Pacific Games gold medallist is already in Germany preparing for his next tournament on the ITF circuit and Baudinet, who tops the list with 37 wins from 65 matches, said he was an example to everyone.
"Without him definitely we couldn't do what we've done. The guy's so solid," he acknowledged.
"…for him to actually still play singles and come on and play doubles with me afterwards and keep that intensity level up and the level of his game it was awesome and amazing and definitely his experience on the road helped the team get through, 100 percent."
Baudinet also paid tribute to the team's non-playing captain, Richard Breen, who flew in from Spain at short notice, and New Zealand based Executive Officer David Smith.
"Originally I was supposed to be the playing captain but definitely having (Richard) on so I could focus on the matchplay – because I actually was on the court as coach for both the singles matches before playing the doubles," he said.
"Having Richard there was huge so a big thanks to him joining us this year really helped get us through and then also thanks to David Smith. He does such an amazing job trying to organise the team."
Colin Sinclair is now back to plying his trade on the ITF Circuit while Clement Mainguy and Tahiti's Heimanarii Lai San are returning to their respective universities in Ohio and South Carolina.
Baudinet is unable to return to Rarotonga right now, because of Covid-19 travel restrictions, but has just been able to reunite with his wife Maya and son Blake for the first time in five months ahead of another major milestone.
"My wife and our two year old are in Chicago and we're expecting our next child in three weeks. As much as we're excited to have the win…I want to go and see my family as well," he said
SOURCE: RNZ PACIFIC/PACNEWS