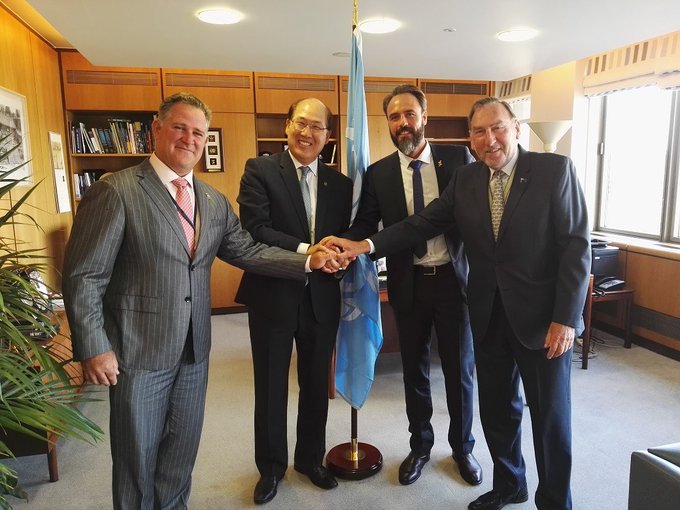 Campaigners have criticised Captain Ian Finley, a UK resident who has represented the Cook Islands at the International Maritime Organisation since 2006, for consistently defending industry interests.
By Rich Collett-White
A negotiator representing the Cook Islands at the UN who has been criticised for blocking efforts to tackle global shipping emissions has been paid at least US$700,000 since 2010 by an industry lobby group he helps run with his wife.
Campaigners said the revelation was a "slap in the face" for those suffering the effects of climate change in the South Pacific, where the archipelago is located.
The industry group's General Manager Janet Strode, who is married to Captain Ian Finley, initially claimed he had had no involvement since the early 1990s, before admitting recent tax returns listing him as its Secretary were correct.
Finley, who is based in Dorset, UK, but has been the Cook Islands' ambassador to the International Maritime Organisation (IMO) since 2006, has been praised for his contributions to the agency by its Secretary-General.
But campaigners accuse him of consistently defending industry interests, having recently backed a proposal that could have exempted an estimated 85 percent of shipping from emissions limits.
A spokesperson for the country's foreign ministry denied there was any conflict of interest, criticising what he called "highly regrettable attempts to discredit the Cook Islands and its Permanent Representative Finley" over its approach to shipping emissions.
He said the "refusal to accept that we are capable of making our own decisions in a forum such as IMO" was "utterly patronising and insulting".
The finding comes as a working group of the IMO, the UN agency that regulates shipping, has been meeting this week to discuss emissions reduction plans for the industry before the agency's environmental committee meets in November.
London's International Shipping Week opened on Monday, with the UK government calling on the shipping sector to hit "absolute" zero emissions by 2050, saying the target, which would be "a significant increase of ambition for the sector", needed to be agreed via the IMO.
The Cook Islands, a voluntary dependency of New Zealand, are known for fishing, tourism, offshore finance and a national shipping registry that last year hit the headlines when two ships were struck off for allegedly breaking U.S sanctions by transporting Iranian oil.
International Parcel Tanker Association
U.S tax returns for the UK-based International Parcel Tanker Association (IPTA), dating back to 2010, list Finley as Secretary of the organisation, which describes itself as "serving the interests of the chemical tanker industry for more than 25 years".
Between 2010 and 2012, Finley earned a total of US$713,138 for the 40 hours per week he worked for the IPTA, which is registered as a non-profit, tax-exempt organisation.
Tax returns from 2013 onwards list him as receiving £0 compensation personally, although the filings say expenses of a similar value were paid to "current officers, directors, trustees, and key employees", which would include Finley. The latest return available, for 2018, listed total compensation for all staff as US$228,971.
Finley is not currently listed on the IPTA's entry in the EU's lobbying transparency register, and previous copies of the register coinciding with the tax returns show only one employee working part-time for the organisation.
Finley and Strode would not confirm whether he had received any income from the organisation since 2012 or provide DeSmog with the most recent tax returns.
They also would not explain why Strode was missing from the US filings, or why Finley is not listed in the EU lobbying register.
When asked, Strode, who represents the IPTA at the IMO, said payments received from the organisation were not all "directly related to salary, as they cover operating expenses, travel, meeting rooms, third party consultants etc.", as well as her retainer. Finley's address is the same as that given on the IPTA's website.
The organisation hosted a conference in 2016, chaired by Finley, at which the Secretary-General of the IMO, Kitack Lim, praised Finley for his work as Cook Islands Ambassador in his keynote speech.
The year before, outgoing Secretary-General Koji Sekimizu said in a farewell speech that he had had "many difficult but enjoyable times" with Finley at the IMO, and said that "Sometime ago, a meeting without the duet of Ian and Janet was not an IMO meeting", referring to Finley and his wife.
According to public VAT records, Finley has also been the owner of a company called Parcel Tanker Associates, which has since been renamed simply to "Ian Finley". Strode described the IPTA as "effectively a client" of this consultancy.
As a non-UN member, the Cook Islands first applied to join the IMO in 1999, when the body's executive body recommended its membership bid. However, it struggled to gain enough support for a number of years, with New Zealand making a plea in 2004 for IMO members to support its application in an attempt to accelerate the process.
Minutes for a 2006 IMO meeting list Finley, who previously represented Panama at the UN agency, as saying the Cook Islands government was determined to ensure "both living and non-living resources would be developed in a sustainable manner that ensured maximum benefit".
But he has been criticised in recent years for opposing measures to tackle shipping emissions, which currently account for around 3 percent of global emissions but which campaigners say could rise to 10 percent by 2050 without urgent action.
'Corporate Capture'
Campaigners said Finley's work at the IPTA was at odds with the IMO's stated aim of "energetically" cutting greenhouse gas emissions from shipping operations.
James Gamble, Head of Pacific Environment, an alliance of non-governmental organisations (NGOs) which has consultative status at the IMO, said it was an "intrusion by the shipping industry into the affairs of under-resourced countries" and a "slap in the face to people who are suffering the most extreme effects of climate change."
Calling on the IMO to "crack down on this type of corporate capture", he also claimed Finley's opposition to slowing ship speeds, which would help cut emissions, may have "actually cost the industry money" due to the higher fuel costs associated with higher speeds.
Dr Lucy Gilliam, a shipping policy expert with marine NGO, Seas At Risk, said Finley's positions at the IMO often "run counter" to proposals from other Pacific island states that argue for stronger climate action because of the threats they face from "aggressive flooding, storms and rising sea levels".
She pointed to a proposal co-sponsored by the Cook Islands in April that would have exempted ships arriving to or departing from all developing countries from IMO emissions regulations – including China, the largest exporter of products in the world.
The exemption, she said, would have left an estimated 85 percent of global shipping without any greenhouse gas limits, according to calculations by Dr Tristan Smith, a shipping expert at University College London.
Although the proposed waiver was not accepted at the time, the committee agreed the issue could be revisited before January 2026, an IMO spokesperson said.
Asked about Finley's dual role as IPTA secretary and IMO ambassador, an IMO spokesperson said representatives were selected by member states and that "representatives would be subject to the national laws of that country in relation to any conflict of interest or ethics."
'Full confidence' of Cook Islands
Responding to questions sent to Finley, Josh Mitchell, Director of the Cook Islands' Ministry of Foreign Affairs, said Finley's position as IPTA Secretary was known to the government and that it was satisfied there was no conflict of interest at play.
"[Finley] has the full confidence of our Government in representing the interests of the people of the Cook Islands in our representation to the IMO," Mitchell said. "We would simply clarify again that Captain Finley's role is to follow our instruction and direction in conveying the position of the Cook Islands government, that he has been doing since 2006."
Mitchell would not comment on whether Finley was still being paid by the IPTA and criticised what he called "highly regrettable attempts to discredit the Cook Islands and its Permanent Representative Finley" over the country's approach to shipping emissions.
He said the "Cook Islands continues to remain open to considering all options for further [greenhouse gas] emissions reductions in the short, medium or long term."
Responding to the specific criticisms of Finley's position on the shipping emissions waiver proposal, Mitchell said the Cook Islands government had not proposed "a blanket exemption of any sort". Rather, he said, their proposal "built on the waiver that already exists" within the IMO's International Convention for the Prevention of Pollution from Ships.
Mitchell said that as a small island developing nation "on the front line of climate change", the Cook Islands government remained "extremely concerned that any further measures to be adopted at the IMO and elsewhere do not come at a cost to our economy, already crippled by the impacts of the COVID19 pandemic."
"Frankly, we find this refusal to accept that we are capable of making our own decisions in a forum such as IMO, utterly patronizing and insulting to our country," he added.
Strode said the IPTA had "never had any interest in the impact any legislation under consideration at the IMO might have on the Cook Islands and most definitely has no interest in or influence on the Cook Islands government's consideration of the issues at hand."
As far as she was aware, she said, contributions from industry to the IMO had "never questioned the need to decarbonise and have always tried to be constructive."
In June, the IMO adopted new binding measures to tackle international shipping emissions that require all ships to measure and reduce their annual carbon dioxide emissions per tonne of cargo carried. The new requirements are due to come into effect from January 2023, with ships set to receive an energy efficiency rating and poorly rated ships asked to submit improvement plans, though there are currently no penalties for non-compliance.
The rules have been criticised by climate campaigners for not taking a tougher line on emissions, however, with the NGO Seas At Risk describing them as "business as usual".
A package of efficiency measures agreed at the IMO last year is expected to cut emissions from the sector by just 1 percent by 2030, according to the International Council on Clean Transportation thinktank, with the industry's greenhouse gas footprint rising by 14, rather than 15 percent, over the coming decade.
SOURCE: DESMOG/PACNEWS