Brigadier-General Jone Kalouniwai is the new Commander of the Republic of the Fiji Military Forces(RFMF), taking over from Rear Admiral Viliame Naupoto.
This was confirmed by the Fijian Government following a meeting by the Constitutional Offices Commission in Suva today.
Former military man Brigadier-General Sitiveni Qiliho remains as the Commissioner of Police, and Francis Kean as Commissioner for Fiji Corrections Service.
Jeanette Emberson has been appointed the new Secretary-General to Parliament.
The appointments were made by President Major General Ret'd Jioji Konrote on the advice of the Constitutional Offices Commission, and appointments made after an exhaustive process of open merit recruitment.
All of the appointments will be for a term of five years
Meanwhile, Police Commissioner Brigadier-General, Sitiveni Qiliho says his re-appointment is an opportunity for him to achieve the goals he has set for the Force.
Speaking to FBC News following his appointment, Qiliho said he was pleased that the Constitutional Offices Commission recognised his achievements.
The Police Commissioner said his focus would be the restructuring of the Fiji Police Force, national security and COVID-19 operations.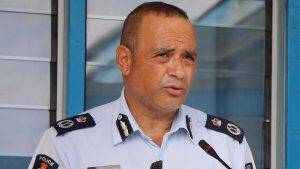 "We have achieved a lot in the last five years and some of those roll over into the next couple of years like the re-structure and some of the plans in place. So it gives me another opportunity to complete that process."
Qiliho said he is ready to work with the newly appointed RFMF Commander Brigadier General Jone Kalouniwai in terms of national security.
SOURCE: FIJI TIMES/PACNEWS/FBC NEWS