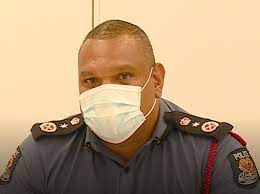 A 59-year-old widow from the Cook Islands was arrested with 150 pieces of C-4 plastic explosives in Milne Bay's Alotau last Thursday, Papua New Guinea Police Commissioner David Manning says.
Police also seized 250 rounds of live ammunition of various calibres and a telescopic Winchester sniper rifle.
"The widow led police to the seizure of the explosives and igniters, ammunition and firearm.
"The widow from Rarotonga has been staying illegally in Papua New Guinea after her visa expired on 04 February last year," Comm Manning said.
He said the uncovering of the explosives and ammunition followed a robbery that occurred in the widow's house on 05 September.
"The investigation was led by the police intelligence officers from the National Capital District and the Southern mobile group special services division policemen who pursued the case despite the challenges," Manning said.
"The widow lodged a police report after four men raided her home.
"She told police that three men walked into her house and demanded for firearms and ammunitions.
"They seized a Luger .22 rifle with a mounted Lithgow telescope and 20 rounds of Winchester 9mm Luger 147 Grain ammunition in a box.
"They also took the time to apologise to the widow before leaving.
"The woman reported the robbery the same Sunday.
"Police launched investigations that revealed the firearm and ammunitions taken were unregistered, with the firearm classified as dangerous with the capability of discharging several 9mm calibre rounds within seconds.
"Last Thursday, police recovered the firearm and ammunitions at about 10am in Mutuyuwa village in Alotau."
Police returned to the woman, who upon further questioning, led them to a local construction company office where police recovered the explosives and live ammunition in the company safe.
"She did not want to explain how those dangerous explosives and ammunition were kept in the office," Manning said.
"She has been arrested and charged with one count of being in possession of an unlicensed firearm, one count for being in possession of 20 rounds of 9mm ammunition and one count of being in the country with an expired visa.
"She has been charged with counts under the Firearms Act and one under the Migration Act.
"The widow was released on K5,000(US$1,425) police bail and will appear in court tomorrow in Alotau."
"It is excellent work from the operation team in Alotau," he said.
SOURCE: THE NATIONAL/PACNEWS