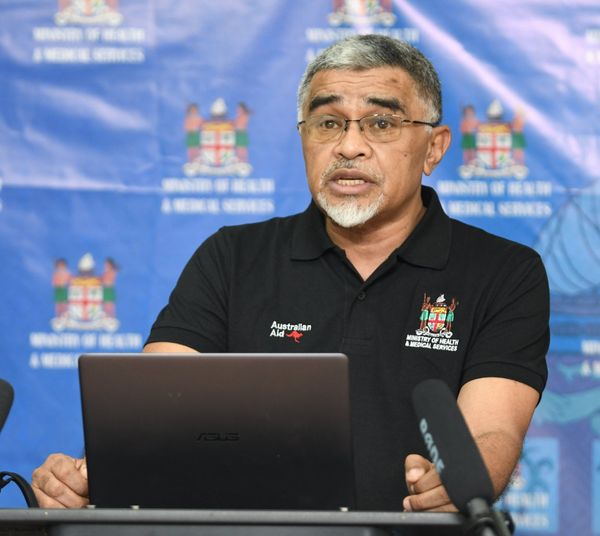 Fiji's health chief is asking his Australian colleagues for support and advice to help deal with emerging cases of what's called 'long COVID'.
It's the latest development in the country's outbreak that first began in April, but Dr James Fong believes the worst is behind them.
Fiji has had nearly 49,000 confirmed COVID-19 cases and Dr Fong told Pacific Beat they're starting to hear of people who are still suffering symptoms, months after they were first infected.
He admits 'long COVID' cases will put a strain on Fiji's health system longer term.
"It will be a strain on the health system that much. That's basically a no brainer for us," he said.
"I have actually made a request with some of my Australian colleagues, some of the medical experts have offered to come in to provide some support…where we are looking at people who have who can help us put together better means to diagnose long COVID.
But Dr Fong said that the health system is currently coping again after months of being stretched.
"In terms of more bed occupancy, ventilators and other oxygen therapy equipment, we've got reserves of 80 per cent and more," he said.
"Most of the patients are asymptomatic, most of the patients do not require oxygen. And some of the critical care equipment that we use, are actually sitting in reserve."
But he confirmed front line health workers are beginning to fatigue and he's in discussion with his Australian colleagues for additional support to relieve the Fijian workers.
Meanwhile, as conversations around 'no job, no jab' continue to happen around the Pacific a new threat to the vaccine rollout has emerged.
Health authorities globally are being challenged by the emergence of fake vaccine cards.
There are reports in Fiji that people are purchasing and using fake vaccination cards to by-pass mandatory vaccination.
Eleanoa* is a 26-year-old women living just outside of Suva and she says that she has been offered a fake card.
"It was going around on messenger, people were spreading the news and it was like wildfire," she said.
Epidemiologist Dr Fiona Russell has lived and worked in Fiji, and she says fake vaccination cards are incredibly dangerous,
"It's such an unethical development to hear it's really is signing off, potentially somebody's death sentence," she said.
Dr Russell said vaccination is the best protection from COVID-19.
"Vaccination prevents severe illness, and death, and having a fake vaccination card will not prevent illness or death."
*Elenoa's name has been changed to protect her identity.
SOURCE: ABC/PACNEWS