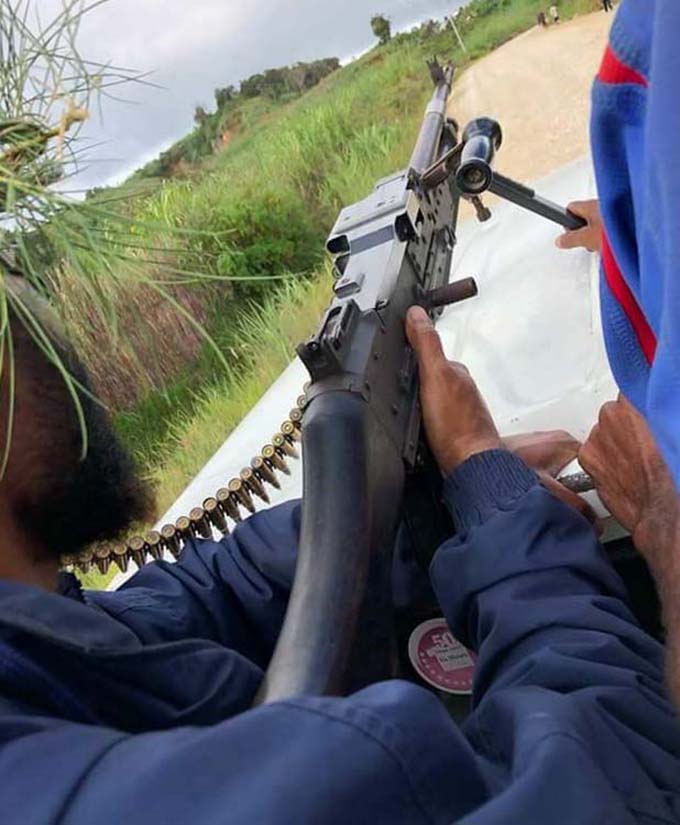 There has been an increase in the trade and movement of guns along Papua New Guinea's borders in preparation for the 2022 national election in the Highlands, a senior PNG police officer says.
Border Divisional Commander Chief Superintendent Peter Philip said that the firearms were being traded for marijuana or the drugs were sold and the money used to buy the guns and these were mainly coming through two fronts, the country's borders with Indonesia and Australia.
"We have arrested many suspects from the Highlands smuggling marijuana into Western, East and West Sepik," he said.
"This marijuana is to be exchanged for guns from Indonesia and Australia.
"And I'm now appealing to people in the border provinces not to entertain outsiders in their villages."
Chief Supt Philip said suspects arrested for drug smuggling revealed that they were selling marijuana to buy guns in preparation for the elections.
"They are amassing weapons because their enemy clans are also doing that," he said.
"The stockpiling of guns in the Highlands is for security reasons in case they get attacked by their enemies if the election outcome in their electorate is not accepted.
"Southern Highlanders, Western Highlanders and Hela people smuggling marijuana to Balimo in Middle Fly, Western, to sell or exchange for arms.
"Engans and Jiwakas smuggling marijuana to the Sepik provinces.
"Eastern Highlanders and Simbus smuggle marijuana to Kikori and Baimuru areas in Gulf which is the transit point of the guns and drug trade with Western."
Chief Supt Philip said that he had 500 policemen serving in the border provinces as well as the PNG Defence Force Barracks at Moem in East Sepik.
"We have military forward bases at Vanimo in West Sepik, Kiunga, Daru and Weam in Western.
"We also have the PNG Correctional services in these provinces.
"So during elections, these soldiers and warders will join the police to be engaged in elections in the border division." he said.
Meanwhile, Prime Minister James Marape says planning for the national general election is focusing on security.
"Security will be of utmost importance to ensure that our citizens are able to vote the leaders of their choice," he said.
"We are a democratic country.
"On that basis, leadership is elected, and we want to, to the best of our ability, create a fair and friendly environment to everyone in 2022."
Police Commissioner David Manning told The National that the planning for the joint security operations involving the police (RPNGC), defence force and Correctional Services started when the warning orders came out on 02 August.
There are three parts to the joint security operations:
*Pre-national election operations;
*Election proper; and,
*Post-national election operations.
"The RPNGC is negotiating with Treasury to release funds to start preparing for the first phase of the operation which includes intelligence gathering, community policing, media and publication and pre-deployment training of the integrated joint security forces," Manning said.
He admitted that despite the joint forces operation, the state agencies did not have adequate security personnel or resources to properly cover the nation, but would be relying on intelligence gathering, a media campaign and community policing.
"It is through intelligence gathering we will identify and target potential threats," he said.
"It is through intelligence gathering that will determine the distribution of security personnel," he said.
SOURCE: THE NATIONAL/PACNEWS