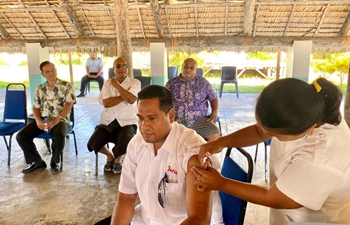 Kiribati started to rollout the Chinese-made Sinopharm COVID-19 vaccines on Friday.
Kiribati President Taneti Maamau, Minister of Health and Medical Services Dr Tinte Itinteang, Chinese Ambassador to Kiribati Tang Songgen and other officials attended the ceremony held in Tarawa, capital of Kiribati.
The vaccines, which arrived in the south Pacific island country on Wednesday, were donated by China to help the country better prevent an outbreak of the pandemic.
Tang said the international community should join hands to cope with the tough challenges brought by the pandemic, adding that China has always promoted greater access and affordability of COVID-19 vaccines in developing countries.
He said the Sinopharm vaccine, with good safety and effectiveness, has been approved by the World Health Organisation for emergency use. These vaccines will offer strong protection for Kiribati people against coronavirus, and provide support for the country's economic and social development.
Itinteang thanked China for the donation. He said Kiribati, despite the current zero-case status, must be well prepared for any possible invasion of the coronavirus, and the vaccination is the key to reduce hospitalisation, death and severe cases.
The China-donated doses will help Kiribati vaccinate more residents, Itinteang said.
SOURCE: XINHUA/PACNEWS