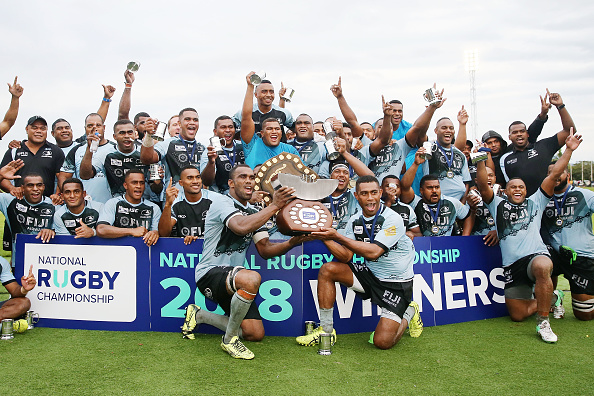 Super Rugby Pacific's newest club, the Fijian Drua have welcomed the Super Rugby Pacific competition format announced by New Zealand Rugby (NZR) and Rugby Australia (RA on Monday.
The competition's newest club will feature alongside five New Zealand clubs (Blues, Chiefs, Crusaders, Highlanders and Hurricanes) five Australian clubs (Brumbies, Rebels, Waratahs, Reds and Western Force) as well as fellow Super Rugby Pacific debutants, Moana Pasifika.
The Fiji Rugby Union, initial owner of the Fijian Drua, said they are thrilled to see a format that offers all participating teams a fair shot at the playoffs.
Fiji Rugby Chairman, Conway Beg stated: "Fiji Rugby is on the cusp of one of its biggest ever achievements through the inclusion of the Fijian Drua in Super Rugby Pacific from 2022. The new dawn, announced in April, is now breaking."
"We have now signed our unconditional license for the Fijian Drua, and in due course, we will confirm the establishment of the Fijian Drua as a separate legal and commercial entity. The club will have its own Board of Directors, management, and staff. And of course, most excitingly, the signing up of a squad of Fijian players who will pit their skills against some of the best in the world once the competition kicks off in February 2022. We cannot thank NZR and RA enough for giving the Fijian Drua the opportunity to participate in Super Rugby Pacific, and World Rugby for their continued support."
"The South Pacific has traditionally been the game's global talent goldmine, but NZR and RA's commitment will help us provide professional pathways for our players right here at home."
Conway Beg also addressed the stationing of the Fijian Drua in Australia, for at least the first (2022) season.
"This was a difficult but necessary decision to ensure that our first season in Super Rugby was as disruption-free as possible in order to achieve our first season objectives. We need to give our team every opportunity for success, and the uncertainty around restriction-free travel between Fiji, Australia and New Zealand as early as February 2022 due to COVID-19 was just too great a risk. For this reason, the Fijian Drua will be based in Australia for the 2022 season, playing their home and away matches in Australia and New Zealand."
"Even though the Fijian Drua will not host a home match in Fiji next year, this remains a joyful day for Fijian rugby fans. It will most definitely be a sacrifice for our players, coaching staff and team management to be away from Fiji for the duration of the season, similar to the sacrifices by other Fijian teams to participate and succeed in other competitions (most notably, the Olympics). But everyone realises the massive opportunity Super Rugby Pacific presents for our players and for the future of our 15s programme."
Beg stressed that the Fijian Drua have every intention of being based in Fiji for the 2023 season, opening the door for up to seven Super Rugby matches to be hosted at home once the restrictions around travel are eased post-COVID.
Beg also announced that the current General Manager Commercial of FRU, Brian Thorburn has been seconded to the Fijian Drua to act as Interim CEO until 2022.
Beg said: "Brian has been the driving force behind the bid for the Fijian Drua, and is ideally placed to oversee the significant remaining activity leading into the first games in Australia in 2022. He has unrivalled experience in sports administration, especially rugby, having been Commercial Director at Rugby Australia for 11 years, and CEO of the PGA of Australia for 6 years. The FRU Board has every confidence that Brian is the best person to drive the establishment of the club. Following his secondment, Brian will return to Fiji Rugby Union in early 2022 to lead commercial preparations for the Women's Rugby World Cup in October and the Men's Rugby World Cup in 2023."
Thorburn added: "Our bid team has been working very hard to achieve this long awaited dream of a place for a Fijian team in Super Rugby. We've got a lot of work ahead of us to be ready in 2022, and I'm both honoured and excited to lead that process."
Thorburn confirmed that announcements relating to players, coaching staff and other exciting developments will be rolled out in the coming days.
FRU CEO, John O'Connor said 'The Fijian Drua will bring a new level of excitement to the competition, and promise to play with high octane flair and skills that are uniquely Fijian"
"The rugby world has long known what our players are capable of. We showcased a glimpse of it when the Flying Fijians took on the All Blacks earlier this year, and our 7s teams have been doing it for years on the World Rugby 7s Series and the Olympics. We now get the opportunity to do this week in, week out in Super Rugby Pacific.
Fiji Rugby also expressed its gratitude to the Australian Government's PacificAus Sports Program through the Department of Foreign Affairs and Trade (DFAT) for providing the financial support necessary for the club's inclusion in Super Rugby Pacific.
John O'Connor stated: "Quite simply, the Fijian Drua's participation in Super Rugby Pacific would not have been possible without DFAT and PacificAus Sports Program's support. We are deeply grateful for their commitment to Fiji Rugby, and offer our heartfelt thanks and appreciation to the Australian Government, Foreign Minister Marise Payne and Australian High Commissioner to Fiji John Feakes. We also acknowledge and are grateful to the Fijian Government, led by our Prime Minister and Fiji Rugby President, Voreqe Bainimarama, for their support of this major development and ongoing assistance to Fiji Rugby. The Fijian Drua will repay all the faith shown by the people and Governments of Fiji and Australia by doing their absolute best in Super Rugby Pacific."
As announced by NZR and RA, Super Rugby Pacific will kick off on 18 February next year with an eight-team playoff series culminating in a final on 18 June.
Features of the Super Rugby Pacific competition structure are:
*12 teams (in alphabetical order) Blues, Brumbies, Chiefs, Crusaders, Fijian Drua, Highlanders, Hurricanes, Melbourne Rebels, Moana Pasifika, Waratahs, Reds, Western Force
* Teams will play 14 regular season matches with each team to host seven matches
*Teams will play eight teams once and three teams twice
*There will be one points table with teams ranked one to 12 based on competition points
*The top eight teams will qualify for a three-week playoff format
* Quarterfinals will be – 1 v 8, 2 v 7, 3 v 6 and 4 v 5 with the top ranked team playing at home
*Top ranked quarter-final winners will host the semi-finals
* 18-week season, no break for international Test window.
SOURCE: FRU/PACNEWS