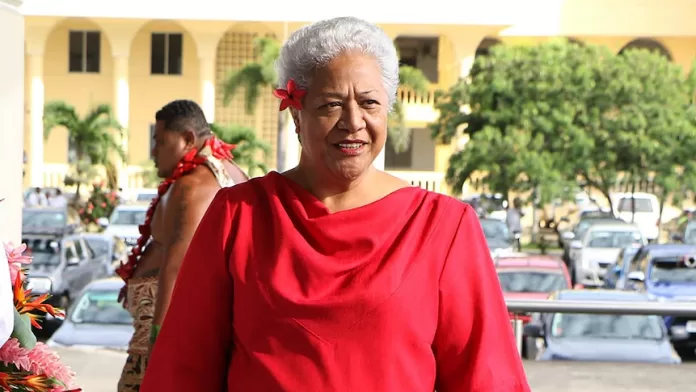 The XVII Legislative Assembly will convene in two weeks time on 14 September 2021, says Samoan Prime Minister Fiame Naomi Mata'afa.
Speaking to the media in a press conference on Wednesday, the Prime Minister said they have seen the 2021/2022 Fiscal Year Budget which will be tabled in the sitting of the Parliament.
"We saw firsthand what the budget looks like on Tuesday and the Speaker of the House has been informed," said Mata'afa.
The Fa'atuatua i le Atua Samoa ua Tasi (FAST) Government's confirming of a date for the convening of the Parliament also raises questions about the status of the 18 Human Rights Protection Party (HRPP) Members-elect, including the party leader and former Prime Minister Tuilaepa Sa'ilele Malielegaoi.
Tuilaepa and his 18 Members-elect are yet to be officially sworn-in as legislatures, after the Court of Appeal ruled in July that the impromptu swearing-in ceremony that the FAST party held for its Members on the lawn of the Parliament on 24 May 2021 was legally binding.
The Speaker of Parliament, Papalii Lio Masipau, when asked by this newspaper recently to comment on the dilemma facing the HRPP Members-elect said he is prepared to swear-in them in but he is yet to hear from them.
"It is my duty to take their oath and it's not a bad thing it's the law," Papalii said recently.
"And I'm prepared to have them sworn-in by myself if it's appropriate [by law to be sworn in after 45 days] but I am still waiting for the Court report [on petitions and by-elections] then I will consider all of it."
The FAST party swearing-in, which was held on the 45th day after the conducting of a general election, was deemed to be legal as it was in line with the deadline set by the Constitution.
However, that ceremony was boycotted by HRPP members and was not attended by the Head of State, His Highness Tuimaleali'ifano Vaaletoa Sualauvi II despite a Supreme Court order for the Parliament to convene.
The ceremony was held outside the Legislative Assembly building after the former Speaker of the XVI Parliament, Leaupepe Toleafoa Faafisi ordered that it be locked.
SOURCE: SAMOA OBSERVER/PACNEWS