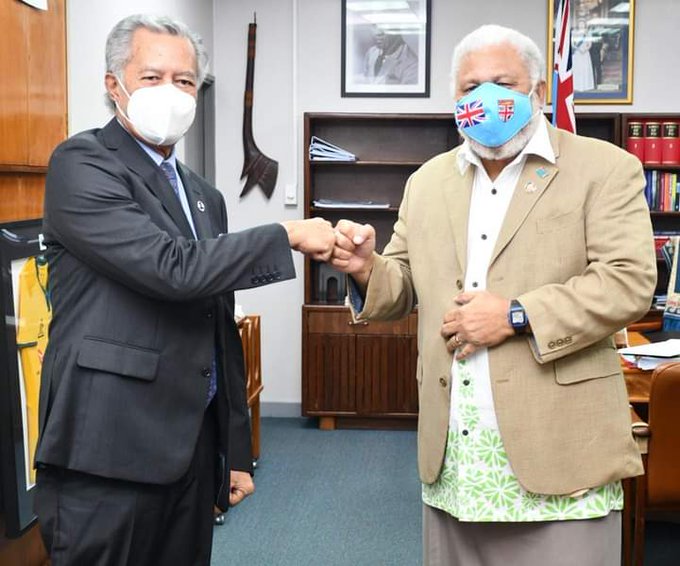 The Pacific Islands Forum Chair and Fijian Prime Minister, Voreqe Bainimarama Wednesday received a courtesy call from the new Secretary-General of the Pacific Islands Forum PIF, Henry Puna.
In his opening remarks, Prime Minister Frank Bainimarama acknowledged Secretary-General Puna for his exemplary leadership and assistance rendered by the Secretariat during the 51st Pacific Islands Forum Leaders Meeting.
Reflecting on the successful outcomes of the PIF leaders' meeting, Prime Minister Bainimarama affirmed the commitment of the Forum family to work in unity for the advancement of regional priorities and interests.
On regional priorities, Prime Minister Bainimarama spoke on the need for ensuring accessibility to COVID-19 vaccines for the region and ultimately enabling the resumption of regional travel and revival of economies and livelihood of pacific families.
He extended his appreciation to Secretary-General Puna for his swift action in supporting member countries through the Pacific Humanitarian Pathway for COVID-19 (PHP-C) and for coordinating the approach of the region to mitigate the impacts of the pandemic.
Prime Minister Bainimarama said through continued utilisation of these existing regional mechanisms and innovative solutions, the region will aspire to achieve sustainable and resilient recovery.
The Forum Chair also reaffirmed his commitment to building regional solidarity and restoring trust and confidence among the Forum family.
Prime Minister Bainimarama said he understands the sensitive issues faced by the Pacific Vuvale and he is fully committed to working towards resolving the issues through the Political Dialogue Mechanism.
In response, Secretary-General Puna reaffirmed his unwavering support to Prime Minister Bainimarama and the Forum family to collectively advance the Forum Pacific's vision for a region of peace, harmony, security, social inclusion and prosperity, so that all Pacific people can lead free, healthy, and productive lives.
Henry Puna is the 10th Secretary-General of the Pacific Islands Forum. Before taking up the regional role on 24 May 2021, Secretary-General Puna was the Prime Minister of Cook Islands, from November 2010 until October 2020.
SOURCE: FIJI GOVT/PACNEWS