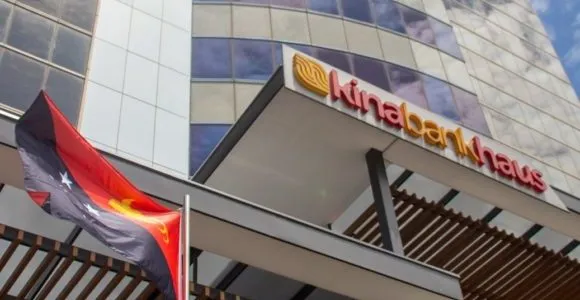 Kina Securities has made commitments to expand Westpac's operations in Papua New Guinea if it is allowed to buy them, including creating new jobs, spending millions of dollars on technology and allowing smaller banks to access its infrastructure, as PNG's competition regulator considers whether to approve the $420 million(US$30 million) deal.
ASX-listed Kina, which owns PNG's second-largest retail bank, Kina Bank, said it had argued before the country's Independent Consumer and Competition Commission (ICCC) last week that buying the third-largest bank – Westpac PNG – would not reduce competition. This came after the ICCC said on 26 July it had knocked back the deal in a preliminary determination, after PNG's biggest lender, Bank South Pacific, which is also ASX listed, argued against the deal.
Westpac CEO Peter King: "We did not identify any other buyers capable of executing a transaction for our joint Pacific operations." Alex Ellinghausen
Westpac CEO Peter King told the commission last week that Kina was the only viable buyer for its network in PNG and Fiji. If the deal was blocked, he said Westpac would be forced to scale down the bank and exit PNG, so divestment to Kina was in the best interests of the PNG economy.
To help get the deal through, Kina Securities CEO Greg Pawson said Kina would spend almost $10 million (US$7.3 million) on digital technology and expanding Westpac's branch network by 50 per cent in the first three years after the acquisition. This came after the Highlands Farmers & Settlers Association, which represents farmers and traders in rural PNG, warned the takeover could reduce the number of branches available to consumers in some towns and regions.
Kina wants to create "a pan-Pacific bank domiciled in PNG" and Westpac's PNG and Fiji operations would be re-branded the East West Commercial Bank, under Westpac's existing corporate structure and licenses.
The new bank will compete with Kina Bank under a multi-brand strategy, while all Westpac PNG's existing senior management and executive roles "will be nationalised and given to PNG local talent, including the country head position," Pawson told the ICCC in a hearing last Wednesday in Port Moresby.
Furthermore, he promised to provide small banks in PNG with access to Kina's infrastructure –- including free access to ATMs and point of sale systems and letting them use Kina branches – to preserve competition. He also committed to "prevent job losses and retain all existing Kina Bank and Westpac employees" while also creating 50 new jobs in PNG in the first year after the acquisition.
Final written submissions are due with the ICCC on Friday before a final determination, which is expected in September.
King told the ICCC that under Westpac's simplification programme its priority has been to "to exit businesses as going concerns to carefully selected buyers, to ensure the businesses, customers and communities they serve, and our employees have strong future prospects".
"Sitting in Westpac's portfolio, the PNG business has not been and will not be prioritised for investment or growth," he said. "As a result, Westpac PNG could not be regarded as a vigorous or effective competitor now or in the future, particularly in a market with such a big number-one player [Bank of South Pacific] which has economies of scale."
King said no other buyer had been identified, so "absent the option to divest to Kina, our only remaining option would be to continue to progressively scale down the business and seek an exit whenever possible."
Kina Securities has also told PNG regulators that it could pursue a banking licence in Australia or Singapore to improve PNG's reach in the region.
The ICCC's draft determination in July found that due to already "highly concentrated" markets, "very high" barriers to entry, and the "incentive for tacit collusion", the deal would not be in the best interest of PNG's consumers.
But Kina Securities chairman Isikeli Taureka told the commission tacit collusion between duopolists was "impossible" given the "significant disparity in market positions between Bank South Pacific and Kina".
SOURCE: AUSTRALIA FINANCIOAL REVIEW/PACNEWS