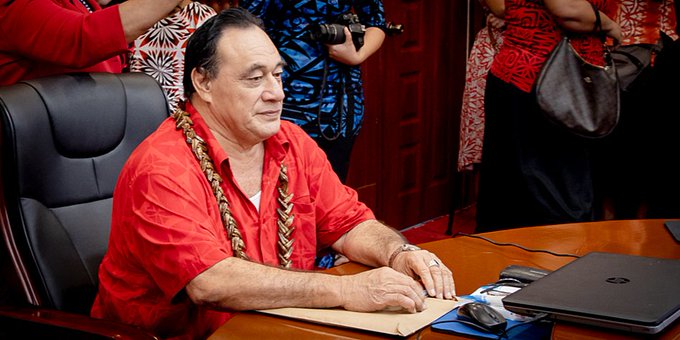 Samoa's Minister of Health has assured the new Government's priority is to fully vaccinate the country's eligible population, before plans are finalised to open a travel bubble with New Zealand.
In response to questions from the Samoa Observer, Valasi Tafito Selesele said the latest amended state of emergency orders is only to start the conversation for long-term plans.
"The only priority now is to push for our vaccine but it's not to say that [travel bubble to New Zealand] will kick off next week," he said.
"That [SOE orders] is to start looking into the possibility of that conversation and negotiations for the long run but there are certain things that needs to be in place like our vaccination drive."
The new Fa'atuatua i le Atua Samoa ua Tasi (FASTled Government last week released changes to SOE. orders including plans on negotiating in a travel bubble with New Zealand.
It is also considering a weekly flight between American Samoa and Apia while monitoring health requirements of the travelers before departure.
However, Valasi said Samoa is not ready to open up its borders at this stage and negotiations are long term plans and discussions that do not happen overnight.
He added that New Zealand has backup plans on COVID-19 whereas Samoa is not fully prepared like Fiji, hence the rationale behind the priority to immunise the population.
In a recent interview with the media, Prime Minister, Fiame Naomi Mata'afa said her administration would look into easing up covid restrictions but keep the borders closed.
Meanwhile the Human Rights Protection Party (HRPP) leader, Tuilaepa Sailele Malielegaoi has warned against rushing into dismantling his government's successful plan to combat and stop the coronavirus entering Samoa.
The former Prime Minister urged the new administration to reconsider opening up a travel bubble with New Zealand.
"The recent travel bubble between New Zealand and Australia has had to be cancelled because of increased infections and particularly the discovery of the Delta variant which is causing real problems for our neighbours Fiji," he said.
"We cannot risk our people's lives for the sake of making a profit for some business people."
Tuilaepa said there is also no need to rush into opening the borders with American Samoa who plans to restart commercial flights from COVID-19 infected Hawai'i next month.
SOURCE: SAMOA OBSERVER/PACNEWS