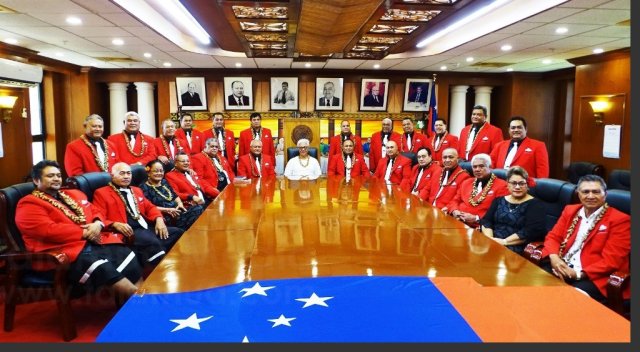 By Lagi Keresoma
The year 2021 is already down in Samoa's modern history as when some compelling political events occurred. But significantly, when a party that has been in power for 36 years refuses to give up power after the general elections and 'red herrings' were thrown in the way and causing a three months long political crisis.
The barely year old FAST Party, led by Samoa's first woman Prime Minister has finally unseated a party led by a Prime Minister of 22 years in power.
Finally taking office on Tuesday this week, 27 July 2021, the seeming impossible in a masculine dominated society has happened.
Mata'afa moved into office with her 12 Cabinet members and are down to work. Apart from her and La'auli as former Cabinet Ministers, the rest are all new.
The other two FAST party women MPs are also in Cabinet. All 12 Associate Ministers are first time Members of Parliament.
FIAME NAOMI MATA'AFA – Prime Minister, Ministry of Foreign Affairs and Trade, Public Service Commission, Office of the Attorney General, Ombudsman, Ministry of Natural Resources and Environment, Samoa Tourism Authority.
Other Responsibilities: Executive Council, Honours and Awards, Remuneration Tribunal, Cabinet Development Committee, National Disaster, National Parks, Recreation and Water Conservation, Meteorology and Forestry.
Mata'afa is no stranger to politics. Her father, Fiame Mata'afa Faumuina Mulinuu 11 was Samoa's first Prime Minister upon the country's independence in January 1962. Her mother, Laulu Fetauimalemau Mataafa was a Member of Parliament and later served as Samoa's a diplomat abroad.
She grew into politics at a young and tender age.
Mata'afa was educated locally and moved abroad for higher education at the Samuel Marsden College and Victoria University in New Zealand.
After the sudden passing of her father in 1975, she was asked to return home and bestowed the Tama Aiga title Fiame previously carried by her father. She was only 20 years old.
She entered politics in 1985 aged representing the electoral constituency of Lotofaga once held by her mother.
She said becoming a matai moulded and changed her a lot not only in her family, village and district but how she relates to male MPs and political leaders when she entered politics and served under the late Tofilau Eti Alesana and Tuilaepa Sailele Malielegaoi.
Her Associate Minister is first time MP, orator Manuleleua Paletasala Tovale.
TUALA TEVAGA IOSEFO PONIFASIO – Deputy Prime Minister, Ministry of Customs and Revenue, Audit Office, Public Trust Office. Other Responsibilities: Liquor Board, Revenue Board
A lawyer by profession, Tuala is a graduate of Auckland University. He is married to lawyer Fuimaono Sarona and run their own law firm.
A first time MP, after trying several times, he held the balance of power when the general election result tied at 25 all.
He gave the FAST Party the majority and the political party to become the Government of the day.
MULIPOLA ANAROSA ALE-MOLIO'O– Minister of Finance. National Provident Fund, Central Bank of Samoa, Development Bank of Samoa, Samoa Life Assurance Corporation, SIFA, Unit Trust of Samoa. Other Responsibilities: Tenders Board, Offshore Jurisdiction, Renewable Energy.
An Auditor/Accountant by profession, Mulipola graduate of the National University of Samoa and the University of Canberra, Australia, She is also a business woman who is the Deputy General Manager (Fexco Samoa – Agent for Western Union Money transfer & No1 Currency, Country Manager (Travelex Money Transfer).
She has been very active in development projects to empower communities, especially women at the grassroots level and an active participant and Board member of the Samoa Victim Support Group –a haven for victims of abuse and domestic violence.
As Samoa's first woman Minister of Finance, she will be in charge of financial side of the FAST Party's decentralisation policy to uplift the economic well-being of rural communities.
MATAMUA VASATI SILI PULUFANA – Minister of Justice and Courts Administration, Samoa Law Reform Commission. Other Responsibilities: Film Censorship, Registry of Births/Deaths/Marriages, Juvenile Rehabilitation
Matamua is the first woman MP for Fa'asaleleaga No 1. The former teacher and business woman, unseated a highly regarded former Minister of Finance and it is her people skills that she acknowledged as her winning edge.
Although it is her first time as Member of Parliament, she is not a newcomer to politics as her late husband was a Member of Parliament. Before her husband's passing, he encouraged her to take the challenge and run for Parliament.
Her Associate Minister is Fesola'i Apulu Tusiupu Tuigamala, also a first time Member of Parliament for Aana Alofi No 1.
OLO FITI VAAI – Minister of Works Transport & Infrastructure. Samoa Water Authority, Electric Power Corporation, Samoa Ports Authority, Samoa Airport Authority, Samoa Shipping Corporation, Land Transport Authority, Samoa Shipping Services & PFL. Other Responsibilities: Civil Aviation, PUMA
One of the most outspoken MPs, Olo entered Parliament in 2011 as member of the Samoa Democratic United Party (SDUP) led by his late uncle Leilua Manuao. He later joined the Tautua Samoa party. He has always been an Opposition MP and had fought ably in significant debates with the former Prime Minister who described Olo as a "stirrer in parliament."
After 15 years as an MP, Olo is become the Minister of Works where the FAST Party's plans incorporated in its Manifesto will be implemented for the development of the country.
Olo will be assisted by Associate Minister, Niuava Eti Malolo, a former school teacher and environmental scientist who was a Project Manager for the Ministry of the Environment.
LEATINU'U WAYNE SO'OIALO – Minister of Commerce, Industry & Labour (inclusive of Recognized Seasonal Employers Scheme (RSE), Ministry for Public Enterprises, Samoa Land Corporation, Samoa Housing Corporation, Accident Compensation Corporation, Samoa Sports & Facilities Authority, Samoa Airways.
Other Responsibilities: Trade negotiations – WTO, ACP/EU, PACER, PICTA, Samoa Business Hub, Consumer Protection, Government Housing Committee, Totalisator Agency Board (TAB), Samoa Gambling Control Authority.
Another vocal MP, Leatinu'u entered Parliament in 2016 as a member of the Human Rights Protection Party for the Urban West constituency. The party later sacked him due to his outspoken comments against some of the Government's policies.
He became an Independent MP and later joined FAST party where he now sits as the Minister for Commerce Industry and Labour. He represents the electoral constituency of Faleata No 2.
Prior to his political career, Leatinu'u worked at was then Polynesia Airlines company both locally and abroad and later became a self-employed businessman operating a shipping cargo company.
His Associate Minister is Laga'aia Ti'aitu'au Tufuga, an orator, former teacher, businessman and farmer from Palauli, Savaii.
VALASI LUAPITOFANUA TAFITO SELESELE – Minister of Health, National Kidney Foundation. Other Responsibilities: Oceania University of Medicine, District Hospitals & Health Centre.
Valasi is no stranger to parliament as he served two terms between 1996 and 2001 as an Opposition MP. He was Leader of the Samoa National Democratic Party but combined under the FAST party banner in the Aril general elections. He is a very able debater and a respected orator. Valasi is the Minister of Health.
His Associate Minister is a two time former Opposition MP, Tea Peato who is the oldest Member of Parliament at 80.
FAUALO HARRY JEFFEREY SCHUSTER – Minister of Police and Prisons. Fire and Emergency Services Authority (FESA). Other Responsibilities: Electoral Commission, Traffic Division.
A lawyer by profession, Faualo is a former District Court Judge and previously served one term as an Opposition MP. As law is in the family blood, his younger brother is a sitting Court Judge and his father is a retired Commissioner of Police.
He will be assisted by Associate Minister Fepuleai Fa'asavalu Faimata.
LAAULIALEMALIETOA LEUATEA POLATAIVAO SCHMIDT – Minister for Agriculture & Fisheries. Scientific Research Organisation of Samoa (SROS), Samoa Trust Estates Corporation.
Laauli's political career was nurtured from a young age being surrounded by a family of politicians including grandfathers, uncles and his late father, who was one of the longest serving MPs and Cabinet Ministers. He first won the Gagaifomauga 3 seat formerly held by his father in 2006.
A former Parliament Speaker, he was appointed Minister for Agriculture and Fisheries in 2016 but resigned from the ministerial post in 2017over a legal battle with another HRPP member.
He told the PM then that "he will be back." He remained an MP but things got bitter between him and the Prime Minister and he resigned from Parliament.
He founded the FAST Party in 2020 and bounced back after a by-election as the very first FAST party MP in the last few months of the 16th Parliament.
He is the Chairman of the FAST party.
Going back into his old office on Tuesday this week, he was certainly back as the Minister for Agriculture and Fisheries. He will drive the FAST Party agricultural and fisheries projects and policies including a push for agricultural exports through the establishment of an Export Authority.
His Associate Minister is a former teacher Va'ele Iona Pa'ia'aua.
SEU'ULA IOANE – Minister of Education, Sports and Culture (inclusive of NUS, Polytechnic and Pre-Schools), Samoa Qualifications Authority. Other Responsibilities: Museums and Archives, Robert Louis Stevenson Foundation, Scholarship Committee.
The career teacher resigned as a Headmaster to run for the April 2021 general elections. Moving up to the Ministerial post, may help refine some of the gaps he had identified in a long career in education and serving his remote village of Neiafu on the western very end of Savai'i Island and the church.
His Associate Minister is also a career educationalist, Aagaseata Tanuvasa Peto. The major issue is the low levels of literacy and numeracy and the shortage of teachers. The FAST manifesto identifies using technology to bridge the gap but depends on internet coverage and speed.
TOELUPE POUMULINUKU ONESEMO – Minister for Communications, Information and Technology. Office of the Regulator, Legislative Assembly. Other Responsibilities: Radio 2AP, Samoa Post.
He is a Civil Engineer with a Masters degree from the Sydney University, Australia. He also has a Bachelor of Science degree and a Teaching certificate from the University of the South Pacific.
He started his public service in Samoa as a teacher in 2002. He later served at the Ministry of Natural Resources and Environment. In 2015, he was appointed the Chief Executive Officer of the Ministry of Works, Transport and Infrastructure.
A first time MP, Toelupe has a lot in his hands to drive the FAST Party's manifesto that launched a free Wifi for education in the rural villages but was cut short by the previous government. Despite huge national investment in communication and technology, Samoa is still far from being properly served in coverage and speed.
His Associate Minister is the youngest Member of the current parliament, Magele Sekati Fiaui, a former teacher and a youth, community and church leader.
LEOTA LAKI LAMOSITELE – Minister of Women, Community and Social Development, Samoa Bureau of Statistics. Other Responsibilities: Village Mayors & Sui o le Malo, Non-Government Organisations, Women Health Committee.
Leota is a businessman, farmer and consultant with Masters in Business Administration from the University South Pacific and Masters in Project Management, Southern Queensland University. He has wide experience having worked with the Development Bank for 18 years, the development of Small Businesses, Treasury and as CEO of the National Health Service. Through the Ministry of Women and Community Development, he will be in a crucial position on how to implement the FAST Party's $51 million tala (US$19 million) funding of village development in its decentralisation policy. Leota is also the Associate Minister of Finance.
His Associate Minister in the Ministry of Women, is respected orator and church deacon, Seuamuli Fasi Toma.
SOURCE: TALAMUA ONLINE/ PACNEWS