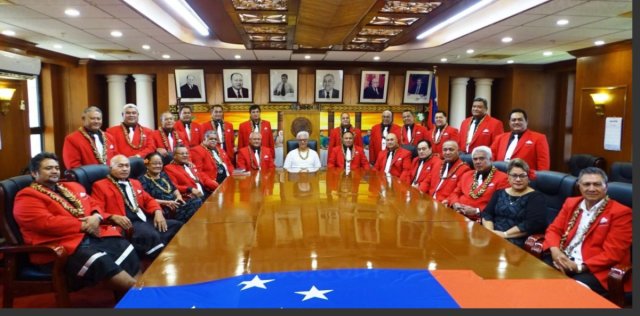 Samoan Prime Minister, Fiame Naomi Mata'afa has announced that there is no rush for Parliament to meet as Cabinet needs more time to screen and review the financial arrangements in place by the caretaker government using an Emergency Budget.
Fiame said last Saturday evening that Parliament was to meet in the first opportunity sometime this week to pass a budget.
When she and Cabinet met the Ministry of Finance last Saturday, she instructed to prepare a budget using article 95 that allows 25 percent of the previous budget to operate until a full budget is prepared for parliament to pass.
However, after Cabinet screened the budget and considered the options over the last two days in office, the Prime Minister said there is no need to rush parliament to meet as Cabinet can pass the budget under article 95.
What she is asking for is a quarter of the previous budget which comes to about $220 million (US$85.3 million) and will be incorporated in the new (full) budget.
"With 25%, there is a figure, but there's a lack of supporting details even though the processes seemed to be followed for payments under the Emergency Budget," according to Mata'afa.
As the 2020/2021 budget ended 30 June, government has been operating on an emergency budget for the past two weeks and the Minister of Finance need to sign for this week's payments that come to about $13 million (US$5 million) operation costs.
Mata'afa explained that Treasury wanted Cabinet to use the budget they have prepared and announced by the caretaker prime minister last month.
"We still want our own Budget to deliver what the FAST Party has in place in its manifesto," said Mata'afa.
It is why she instructed Treasury to prepare a budget to cover three months while they review the country's economic and financial position in preparing a full budget.
Mata'afa explained that there are also differences of interpretation as Treasury believes the 25 percent she is asking is of a new full budget. Hence the need for her government to adopt and pass the budget they have prepared.
However, Cabinet is of the view that 25 percent under article 95 is from the previous budget.
Cabinet further screen the budget today, its third day in office.
But Parliament will certainly not meet this week.
"Possibly around September, at the end of the quarter," said Mata'afa.
She also reminded that 17th Parliament has already convened in the swearing-in ceremony of 24 May that has been declared lawful by the Court of Appeal.
SOURCE: TALAMUA ONLINE/PACNEWS