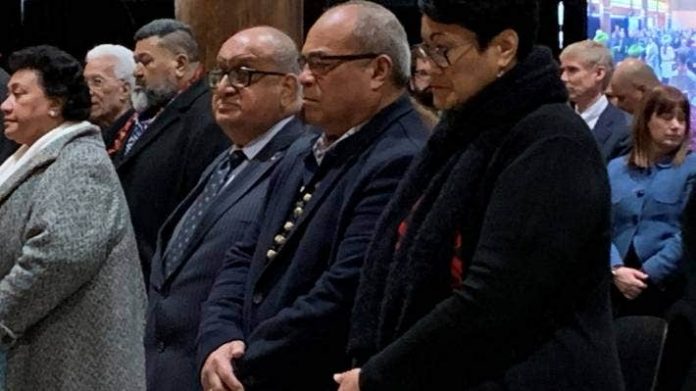 The Pacific hearing of the Abuse in Care Royal Commission of Inquiry has started, with survivors expected to discuss the impacts of the Dawn Raids.
Tulou: Our Pacific Voices; Tatala e Pulonga is the first of its kind for New Zealand and will be held over two weeks at the Fale o Samoa in Māngere.
The public hearing considers the impacts of the Dawn Raids on individuals and the wider Pacific community – part of a bigger investigation into abuse and neglect in care from 1950 and 1999.
Tulou is a term commonly used in many Pacific languages to show courtesy when one comes within another's open space. In Tongan, Tatala e pulonga is a metaphor meaning lifting the dark cloud.
Commissioner Ali'imuamua Sandra Alofivae said the Fale translates to home, and goes beyond a physical space but provides a cultural and spiritual safe environment to help survivors come home.
The hearing opened with an ava ceremony and a colourful mix of Pacific identity, with presentation of gifts from all corners of the Moana.
Two people are expected to give their testimonies on Monday – Luamanuvao Dame Winnie Laban, New Zealand's first Pasifika Member of Parliament, and survivor Fa'amoana Luafutu, an artist and writer.
Minister for Pacific Peoples, Aupito William Sio, said the Pacific hearing will give an opportunity for those victims of abuse in care to begin telling their stories.
"And hopefully, in my view, will shine a light on the darkness that many have tried to cover up," Sio said.
"We are not going to be able to move forward in confidence, to prosper and thrive as a nation unless we tackle these challenging and difficult matters head on."
Sio said often times when it comes to matters of family abuse and sexual abuse, these issues are pushed aside and covered up.
"Because it's so challenging for our communities to talk about it."
Over the two weeks of 19-30 July, the hearings will follow the story of Pacific survivors of abuse in state care.
They will talk about their migration to New Zealand, circumstances which saw them separated from their parents and families, and the care they received in their new country.
Sio said bringing the hearing out to the Fale, instead of using a courtroom, matters to the Pacific community.
"In the Pacific communities, matters of significance must be discussed and debated in the open, for complete transparency.
"It's not just those who were involved, it's also for the leadership and for the younger generation to hear it, because the solutions to some of these most complex issues are often long-term, and it will be up to the next generation to learn from the mistakes of the past and hopefully not repeat it," he said.
SOURCE: STUFF NZ/PACNEWS