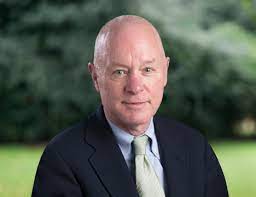 UBS made $81 million (US$60 million) in excessive profits from an overly complex loan to Papua New Guinea, while the investment bank failed to disclose it had structured an option agreement weighted heavily in its favour, a royal commission was told on Thursday.
The commission into the so-called UBS loan affair heard evidence from Dr George Oldfield, a derivatives expert who previously worked at the U.S Securities and Exchange Commission and the Federal Reserve, who described the deal as a "mess".
Dr Oldfield, a principal at consulting firm Brattle that evaluated the deal for the commission, said the interest rate charged by UBS on the $1.2 billion (US$891 million) loan was "very high" given the investment bank was taking "no credit risk".
"There was no doubt that UBS would be repaid at the end," he said.
UBS charged interest of between 5.34 per cent and 12 per cent on the two loans it extended and this delivered it "excess" interest payments, above the risk-free rate of return, of $56 million (US$41 million), Dr Oldfield said.
PNG used the funds borrowed from UBS in 2014 to purchase a 10.1 per cent stake in ASX-listed Oil Search. When Oil Search's shares fell sharply the next year, PNG was forced to gradually sell down its holding, costing the Pacific nation an estimated $432 million (US$320 million).
In addition to the excessive interest payments, Dr Oldfield said UBS had misrepresented the option agreement struck over the Oil Search shares as "nil premium". He said this meant it should not have favoured one party over the other.
"It was advertised as nil-premium but it was actually worth $25 million to UBS," he said. "UBS did not disclose this profit."
He said UBS' "excessive profits" from the loans and options agreements ran to $81 million.
Dr Oldfield agreed with counsel assisting, Dr James Renwick, that UBS' behaviour was neither "commendable or appropriate".
Dr Renwick said UBS' conduct in relation to the option agreements was "false and misleading".
The structure of the loans was "overly complex" and it was not reasonable to expect PNG government officials, charged with overseeing the deal, to understand how it worked, Dr Oldfield said.
"The UBS transaction was very difficult to understand and looks to have had very substantial profits to the lender [UBS], which I don't think the state [PNG] would have been aware of," he said.
UBS was criticised in an earlier hearing for having a conflict of interest on the deal as it arranged the loan while also acting as an adviser to the PNG government.
In its report, Brattle said the $13 million (US$9.6 million) received by UBS for advising on the deal was "appropriate" given the size of the loan and its complexity.
Brattle did not provide a total figure for UBS' fees and interest on the deal, but if the "excessive profits", advisory fee and interest charges were put together the figure would be more than $100 million (US$74 million).
Dr Renwick also took a further swipe at UBS over its refusal to hand over documents or put forward witnesses. "For a long time we have been trying to get UBS to engage with the commission and indeed with their former customer [PNG]," he said.
"UBS should be on notice … if they choose not to co-operate they run the risk of significantly adverse findings," he said.
Dr Renwick said Paddy Jilek and Mitchell Turner, who both worked on the deal, remained at UBS and should present themselves for cross-examination by the commission.
At the time Guy Fowler was the head of investment banking at UBS, while Matthew Grounds was the country head. Both men are now at Barrenjoey Capital Partners.
SOURCE: AFR/PACNEWS