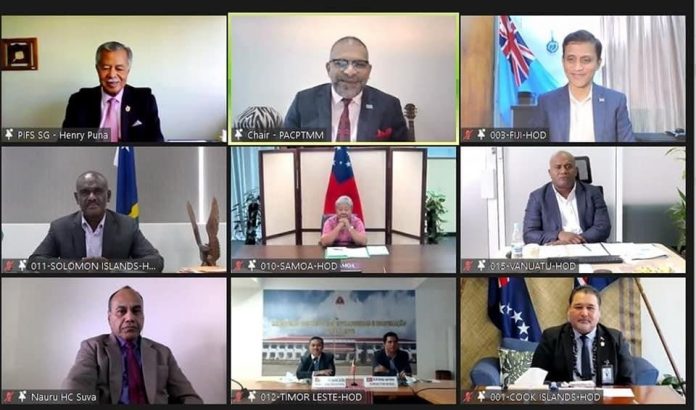 Fiji's Trade Minister Faiyaz Koya has outlined the importance of remaining focused on the future to emerge stronger while chairing the 2021 Pacific ACP (PACP) Trade Ministers Meeting today.
"Our region has embarked on numerous initiatives and programmes to accelerate transformation across multiple facets of our economic sectors. From fighting for the rights of our artisanal fishers for food security and livelihoods in the future Fisheries Subsidies Agreement – to reinvigorating existing and forging new partnerships – to improving the competitiveness of our region, through trade facilitation and sustainable development techniques," stated Koya.
"What we need to do now, is to make sure that these strategies are still relevant in light of COVID-19. So that we are able to unlock new opportunities that have arisen globally over the last 12 months or so. Regional cooperation seems to be the most powerful tool we have in fighting the multidimensional impacts of COVID-19 and other ongoing challenges, such as climate change," Koya further added.
The emergence of e-commerce and accelerated digital transformation globally was recognised as a new normal with businesses and consumers increasingly buying and selling goods and services online.
"In Fiji's case, I am heartened to see that many companies have heeded the call to evolve their business models and overcome the disruptions caused by the pandemic. This digital transition will have lasting impacts in our lives and ensure business continuity in future despite disruptions," said Koya.
Despite being in the middle of the most challenging period that our world has faced, the opening remarks echoed the importance of seizing opportunities available to us as a region and being open to the world of possibilities. The ultimate end-goals of the agenda is to chart a clear pathway for our Region's rapid recovery.
"Tourism has undoubtedly been one of the most important economic sectors for our Region, but the pandemic has exacerbated issues already presented to us by Climate Change.
"According to a recent report published by UNCTAD, due to the pandemic, loss on tourism is more than US$4 trillion to the global GDP for 2020 and 2021. And this loss has rippled across other sectors closely linked to tourism.
Whilst experts state that return to pre-COVID-19 international tourist arrival levels is unlikely before 2023, we have to continue efforts towards making international travel a safe possibility, he said.
"We must build essential foundations to digitalise travel-related measures, such as testing, contact tracing and vaccination passports to promote safe travel and prepare for the recovery of tourism once conditions allow. This could promote mutual recognition of COVID-19 test results and vaccines, and help establish safe travel corridors between countries. The rapid return of our tourism industry is vital to the Region's recovery.
"We are in the middle of the most challenging period that our world has faced. We cannot afford to slow down. We must seize the opportunities that are available to us. We must remain open to the world of possibilities. As the world transforms, so must we," Koya told Ministers
SOURCE: FIJI GOVT/PACNEWS