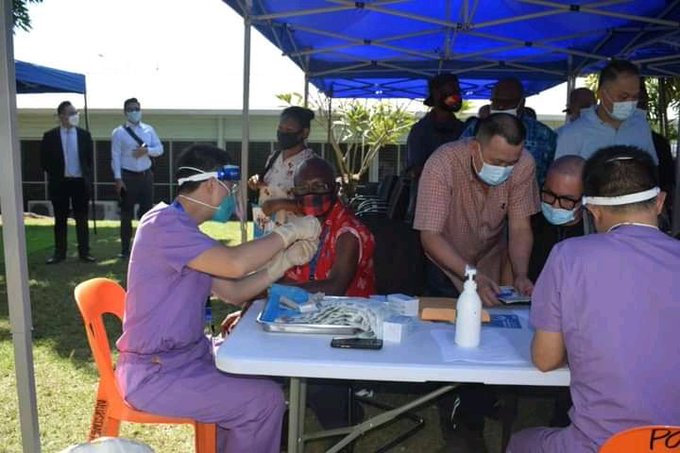 The Chinese vaccine, Sinopharm, that arrived in Papua New Guinea last month was launched Tuesday at the Port Moresby General Hospital.
This means that it will now be rolled out as one of the COVID-19 vaccines through the National country's Department of Health's vaccine distribution system.
It is for persons aged 18 years old and above and is recommended for two doses. The dose interval is three weeks.
Since the arrival of the 200, 000 doses, a total of 2,500 doses have been given to the Chinese nationals.
Minister for Health and HIV/AIDS Jelta Wong said vaccination remains voluntary but it cannot be voluntary if there is no alternative vaccine.
Minister for Forests Walter Schnaulbelt became the first person to be vaccinated to launch the vaccine, followed by others both Papua New Guineans and of Chinese origin.
Schnaulbet said he decided to get vaccinated to show others that there is now an alternative vaccine that people in PNG can choose to get if they do not want AstraZeneca.
One of the people that was vaccinated was Marilyn Dave. She said she was happy to receive the vaccine.
"We don't know what is coming," the Gulf woman said.
There are predictions that there will be a second wave of COVID-19 and vaccination will help protect one from getting severe forms of the virus. The global trends also show that the new variants, including the Delta Variant are causing havoc in some parts of the world.
Sinopharm is one of two main Chinese coronavirus vaccines that have been sent out to millions of people both in China and other countries, especially in Asia, Africa and the Latin America.
In the Pacific region, Solomon Islands and Vanuatu have received Sinopharm vaccine ahead of PNG and are already distributing the vaccine amongst their people.
This vaccine was approved for emergency use by the World Health Organisation (WHO) as COVID-19 vaccine in May this year. This means that it is safe and effective for use.
Other vaccines that have been approved by WHO for emergency use are AstraZeneca, Pfizer and Johnson & Johnson.
Chief Executive Officer of Port Moresby General Hospital Dr Charles Molumi said following the launch a team would be based at the front of the hospital's Department of Accident and Emergency every day to vaccinate anybody that came for the Sinopharm vaccine…..
SOURCE: PNG TODAY/PACNEWS