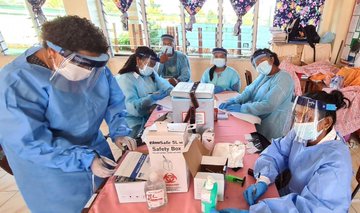 We are not giving up the fight against the COVID-19 virus in Fiji.
This was the statement by Health Ministry permanent secretary Dr James Fong as the COVID-19 cases continued to soar, with a record 791 cases announced on Wednesday.
Dr Fong remained adamant that the battle was not yet lost.
"We are just shifting our priorities to mitigate the worst effects of the virus by optimising the use of what resources we have," he said.
When asked whether the ministry would makes changes to its current strategy in addressing the pandemic, Dr Fong remain steadfast on the ministry's overall plan.
"Our plan is to reduce risk of severe illness among infected people, reduce risk of death amongst those with COVID-19 and for other illnesses."
"We want to slow down transmissions in specific settings and communities, increase community engagement and COVID-19 safe practices as well as protect the wider community and maintain COVID-free status in the Northern and Eastern divisions," he said.
Meanwhile, the COVID-19 pandemic has turned into a mental health epidemic, says mental health specialist Selina Kuruleca.
And for this, Fiji's renowned psychotherapist is pleading with Government to listen to people who are suffering during the pandemic.
She highlighted this issue during a virtual conference about the impact of the pandemic.
"We have a mental health epidemic on our hands," Kuruleca said.
She said mental health was the ability to function in spite of what life threw at people.
"People need to be heard on the ground and they need to know that somebody cares for them."
She said the living style in Fiji was such that people looked out for their neighbours in times of uncertainty within our communities.
"But this is not the case when push comes to shove. Case such as Qauia, according to information from the ground, Government has delivered only two sets of food rations. What people need is that they need to be reassured that Government cares about them."
She said it was the responsibility of any government to oversee the welfare of its people.
"It's the responsibility of Government to look after health, education and the infrastructure of any nation."
She said life in poverty-stricken communities had worsened during the pandemic and there were settlements where about 10 to 15 people lived together in a small home.
"This did not happen overnight and their situation has deteriorated rapidly since the COVID-19 pandemic."
She said government food assistance was not enough and that people needed to be shown care so that they could live a simple yet dignified life.
SOURCE: FIJI TIMES/PACNEWS