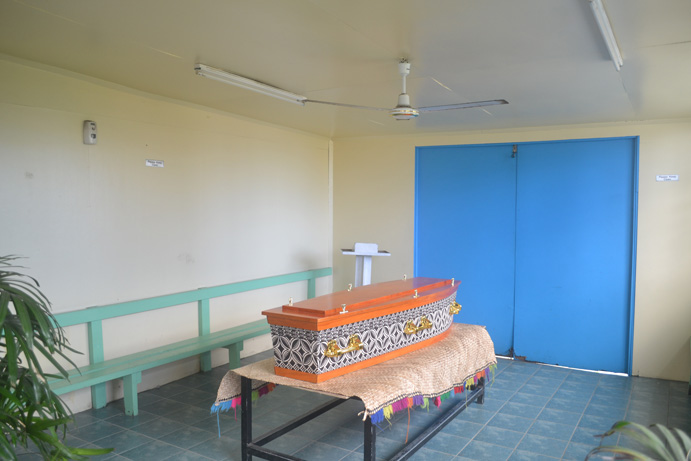 The mortuary at Fiji's largest hospital is now full, the country's health ministry said on Monday, as the Pacific island nation logs record daily coronavirus cases.
There were no immediate details on the capacity of the morgue. Twenty-eight people have died from COVID-19 in a second wave of infections starting in April, the ministry said on Sunday.
The Colonial War Memorial Hospital in the sole public hospital in the capital of Suva and its facilities are now devoted to caring for COVID patients.
"Due to the mortuary now being utilised to full capacity, the concerned relatives are kindly requested to make immediate arrangements for the uplifting of the deceased from the mortuary, and the performance of final funeral rites for your loved ones," the ministry said in a statement.
Although Fiji had early success with keeping the virus at bay by closing its borders, the highly transmissible Delta variant, first detected in India, is now spreading. A new daily high of 522 new infections was recorded on Sunday. The island has a population of about 900,000.
About 54% of Fijians have received at least one dose of the AstraZeneca or Sinopharm vaccines, according to official data, while almost 9% have received a second.
Meanwhile, a New Zealand doctor fears for Fiji as it struggles with a COVID-19 outbreak.
Christchurch anaesthetist Wayne Morriss is among a team of New Zealand and Australian doctors who've flown there to help.
He says the surge in cases has left Suva "under siege" and is concerned it's going to get worse.
"I'm worried for Fiji, I think the health authorities here are worried," says Dr Morriss from the Australian New Zealand Medical Assistance Team (ANZMAT).
"Suva certainly feels like a community under siege, I think people are very worried about the virus and they're worried about getting sick."
Dr Morriss went to Fiji in the aftermath of Tropical Cyclone Winston in 2016. Suva dodged a bullet then, but with COVID it's a direct hit.
"My public health colleagues tell me that the number of positive cases being announced each day underestimates the number of cases in the community," says Dr Morriss.
"We're expecting the number of cases to increase during the next few weeks and inevitably there'll be an increase in the number of very sick patients being admitted to hospital and also the number of deaths."
He says it's already overwhelmed the hospital.
"The hospital had an outbreak of COVID-19 at the beginning of June and since then it's effectively closed for non-COVID with serious medical and surgical problems."
Fijian health authorities have had to set up a field hospital and the ANZMAT team is there to offer support and get the public health message out, to help bring the outbreak under control.
SOURCE: REUTERS/NEWSHUB/PACNEWS