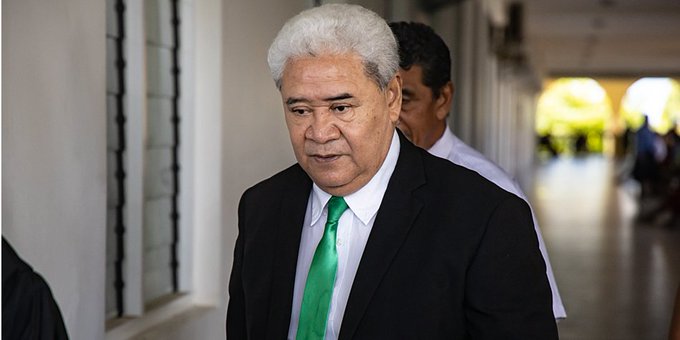 The leader of the Tautua Samoa Party, Afualo Dr Wood Salele, has been found guilty of bribery by the Samoa Supreme Court.
The court further dismissed three counts of bribery against the Faatuatua ile Atua Samoa ua Tasi (FAST) party candidate, Fepuleai Faasavalu Faimata, who is the Member of Parliament-elect for the Salega No. 1 seat.
Justice Niava Mata Tuatagaloa and Justice Fepuleai Ameperosa Roma delivered the decision this morning.
The verdict is the second decision from this morning in which candidates who filed legal challenges to electoral results were themselves found guilty of corrupt practices while winning FAST candidates were acquitted.
Earlier, a legal challenge against the victory of the MP-elect in the seat of Aana Alofi No. 3, Agaseata Valelio Peto was dismissed on Friday.
But the court action backfired for his opponent, Ili Setefano Taateo, who challenged Agaseata's victory in court but was instead found guilty himself of two counts of bribery.
The decision was handed down by Justice Vui Clarence Nelson and Justice Tafaoimalo Leilani Tuala-Warren.
Agaseata is making his debut in Parliament; he stood for the seat under the Faatuatua ile Atua Samoa ua Tasi (FAST) banner.
Part of the allegations against him and thrown out by the court were claims he engaged in bribery during the FAST party's campaign roadshow.
Ili, a former Tautua Samoa party MP, ran as an independent candidate and had plans to switch his allegiance to join the Human Rights Protection Party had he been successful in the April poll.
The latest results leaves FAST in the lead retaining 26 seats and HRPP fallen to 24 representatives in the Legislative Assembly.
A former Principal of Nofoalii Primary School and an educator for more than 40 years, Agaseata took over the seat with 675 votes with Ili coming second with 560 votes.
SOURCE: SAMOA OBSEVER/PACNEWS