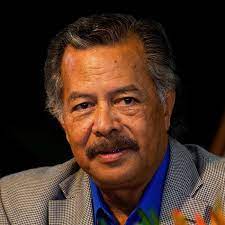 The new head of the Pacific Islands Forum says restoring unity to the congregation of Pacific leaders is his 'utmost priority' in the short term.
In his first trip to Australia as the region's top diplomat, Henry Puna said leaders were engaging in a process of dialogue, following a decision by Micronesian representatives to leave the forum early this year.
The rift formed when Puna, a former prime minister of the Cook Islands, was elected to the role of Secretary General of PIF.
Micronesian leaders claimed the appointment of Puna contravened a so-called gentleman's agreement, which would have seen their candidate, Gerald Zackios take the top role.
Speaking to the media this week, Puna said confidential discussions were underway between the forum's members, but he believed a compromise could be reached through engagement.
Puna, who visited Canberra during his trip to Australia, also flagged climate change as the major long-term priority for the Pacific.
He said the upcoming COP26 conference in Glasgow later this year would be a defining moment for the world and an opportunity to convince other nations to adhere to rules set out in the Paris Agreement.
"I believe that enough talk has been had already. And we need really to put action to those words," Puna said.
But he stopped short of calling on the Australian Government to make a firm commitment to achieving net zero carbon emissions by 2050.
SOURCE: ABC/PACNEWS