The eight competing team captains gathered around the iconic Townsville sign this morning to take the customary captain's photo.
Participating was the men's and women's captains for Australia, Fiji, New Zealand and Oceania.
• Nick Malouf (Australia Men)
• Sharni Williams (Australia Women)
• Jerry Tuwai (Fiji Men)
• Tokasa Seniyasi (Fiji Women)
• Scott Curry (New Zealand Men)
• Sarah Hirini (New Zealand Women)
• Stu Dunbar (Oceania Men)
• Lily Dick (Oceania Women)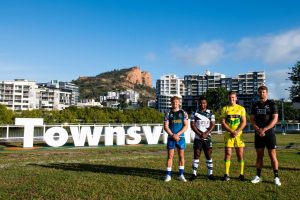 They were joined by Hayden Saltner from the Wulgurukaba Walkabouts, who will be performing during the tournament.
The 2021 PacificAus Sports Oceania Sevens commences this Friday, 25 June at 2pm, with all matches played at Queensland Country Bank Stadium.
Each team will play six matches over the three-day tournament.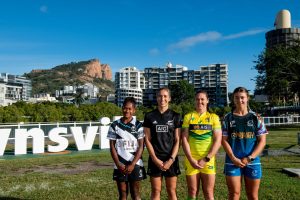 The Oceania Sevens is supported by the Queensland Government through Tourism and Events Queensland, and is a feature on the It's Live! in Queensland events calendar.
SOURCE: OCEANIA RUGBY