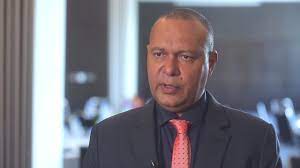 Papua New Guinea deputy Prime Minister and member for Bulolo, Sam Basil will be facing a leadership tribunal.
Chief Justice Sir Gibbs Salika appointed the Leadership tribunal to enquire into allegations of misconduct in office by the member for Bulolo.
The appointment follows a request by Public Prosecutor Pondros Kaluwin, to the chief justice under section 27 of the organic law on duties and responsibilities of leadership.
The tribunal will be chaired by Justice Allen David and other members.
The tribunal will commence its inquiry on the date and time to be fixed by the tribunal.
SOURCE:NBC PNG NEWS/ PACNEWS