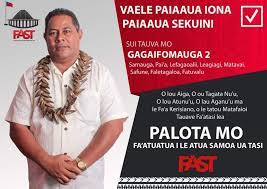 Former Associate Minister of Revenue, Sooalo Umi Mene was granted leave by the Supreme Court to withdraw his petition against FAST winner, Vaele Paiaaua Sekuini.
His lawyers Lucy Sio Ofoia and Arthur Lesa confirmed before the Court on Tuesday the application to withdraw and publication of intention to drop the electoral petition.
In response Vaele filed a motion to withdraw his counter petition and published his intention and reasons for his change of position.
He was represented by Leiataualesa Komisi Koria and Pose Toma.
Justice Niava Mata Tuatagaloa sitting with Justice Lesatele Rapi Vaai granted the application and struck out the petition and counter petition.
Each party has agreed to bear their own costs.
Sooalo was not present in the Court proceeding on Tuesday where the negotiation was settled.
The petition is the first to have been successfully withdrawn from the 28 electoral challenges that were filed following April's General Election.
In his advertisement to withdraw the counter petition, Vaele noted it was for the best interest of the constituency.
Gagaifomauga No.2 covers: Samauga, Paia, Lefagaoali'i, Leagiagi, Matavai, Safune, Faletagaloa, and Fatuvalu.
The elected MP also said the move will save the Court's time and resources with the parties agreeing to settle their legal dispute.
Prior to running for office, 56-year-old Vaele was a farmer and businessman.
He collected a total of 596 votes while the former Associate Minister collected 444 ballots.
Sooalo initially entered parliament in 2011 and defended his seat in 2016.
He is a member of the Human Rights Protection Party and was one of four candidates who contested under the ruling party's banner in the race for the constituency's seat.
Vaele is a first time politician and was the sole candidate flying the newcomer FAST's party flag.
The other three candidates were Lepailetai Sifuiva Ngg Cho, only woman candidate Manuta Lavamaile Uesile and Peauala Titi Lamese.
SOURCE: SAMOA OBSERVER/PACNEWS