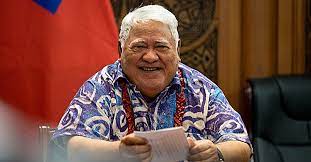 Samoa caretaker Prime Minister, Tuilaepa Sailele Malielegaoi says it is supporters' encouragements and pleads not to concede that is keeping him in office.
Speaking on the state-owned Radio 2AP, Tuilaepa he could drop everything in a second but "what then?"
The Human Rights Protection Party(HRPP) leader who has been in power for 22 years said his conscience would not let him leave his office to his rivals knowing the way it is being done is not right.
"I have been sitting here for a long time, I have wanted to rest a while ago and I should be resting," he said.
"I have been a leader for a long time, apart from when I was the Minister of Finance and when I was in Parliament.
"It is not hard for me to rest now. But the question is what then? If I went to rest right now, what then?
"That is the big question; but how will I carry the weight of the 60 per cent of the people who voted in support of the HRPP and its leadership on my conscience?
"They only got some 30 per cent; we got almost twice that support, but because the votes were split amongst our many candidates, this is why the result of the General Election is the way it is now."
Tuilaepa claims many supporters have approached and phoned, advising him not to let go.
"They said to me, please Leader of HRPP, do not forsake us. Lest you forget the faith we entrusted in you. Don't," he said.
"You are our hope. We will be affected, along with our children if you leave because we have clearly seen the images of these people and their incompetence is well known.
"People on Facebook continue to broadcast things about all of them and their incompetence, so please, if you love us, do not leave us.
"That is what is most heavy on my mind, but leaving this office is very easy. And what about the many Members of Parliament who put their trust in me?
"What about the advice delivered at the altar and the many beliefs delivered in the bible to us as leaders? May we be servants, and we have been."
According to the Office of the Electoral Commission, HRPP won 55.04 per cent of the "popular vote" while Fa'atuatua i le Atua Samoa ua Tasi (FAS.) won 36.8 per cent.
HRPP, who in March predicted it would win anywhere between 42 and 47 of the 48 seats up for grabs this election, won 25 on Election Day.
With 106 candidates, they won 46,640 votes across the country, but with a seat-winning success rate of 23.58 per cent. On average their candidates won 440 votes to FAST's candidate average of 608.
FAST secured 25 seats, having contested in 43 of the 48 seats up for grabs – now 26 with the addition of elected Independent candidate, Tuala Iosefo Ponifasio.
Both parties are staking their claims as the nation's official government following the swearing-in of Samoa's first elected woman Prime Minister, Fiame, outside Parliament last month under a tent, as Tuilaepa refuses to relinquish power insisting the ceremony was illegal.
The matter will be called in court this week to determine its legitimacy.
Tuilaepa said if the result of everything they are awaiting for prescribes that they must leave office, they will.
"From the very beginning when I became a Prime Minister, I said in my very first speech, Cabinet, let us work as untitled men. Do not sit and rock in chairs in our offices, let's go out and see what the people need to develop," he said.
"Even if the people have forgotten our many works, it is not for our praise. The Word is clear, that when labor is done, give the Lord all the praise."
The caretaker PM blamed the ongoing political commotion on FAST saying the nation would not be going through an impasse if they had not taken the matter to Court.
He said usually Government transition would move forward once the Electoral Commissioner announces results.
"But they have become so fixated on the catch that he forgets the importance of keeping the net safe and secured for another day (manumanu i le i'a ae le manumanu i le upega)," said Tuilaepa.
"They took the matter to Court and has now caused all these problems that continue to this day.
"Now, after one wrong, they walk into another wrong. It's like they have taken it too far and now it is hard for them to make a U-turn. And now none of them can admit they were wrong.
"They are very clever in making one scheme and another with more and more accusations in efforts to turn the people against us thinking we had started this, yet it is very clear they started it."
Both parties claim they are following the rule of law as post-election petitions are underway.
SOURCE: SAMOA OBSERVER/PACNEWS