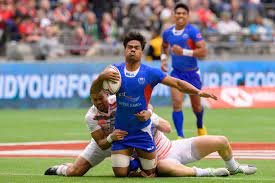 Former international sevens player Gordon Langkilde has been recalled to the Manu Samoa training squad.
Lakapi Samoa General Manager, Seumanu Douglas Ngau Chun, confirmed when contacted by the Samoa Observer that Langkilde will join the training squad in New Zealand when his travel documentation is finalised.
He said the head coach Vaovasamanaia Seilala Mapusua made the call to get Langkilde to join the training squad.
"He (Langkilde) was not selected in the final Manu Samoa squad. The selection was made by Seilala himself and he saw four players who were ready for this," he said.
"Our boys from Europe may not be able to travel due to borders and as you know we have players who are in the group (elite) who are ready to come when they are being called.
"But it's the paperwork that will stand in the way because it has to go through Foreign Affairs to us and the process takes so much time."
The Manu Samoa training squad had nine players with only four making the cut: Elisapeta Alofipo, Theodore McFarland, Joe Perez and John Vaili.
It is understood the other five players were supposed to be flown to New Zealand from Europe. They are Ah See Tuala, who is currently in England; Aj Alatimu in America; Seilala Lam in France; and Aki Seiuli and TJ Ioane who are both in Scotland.
Seumanu added that he is working with the manager to get the players to arrive before the test matches.
"I and the manager are constantly working on getting the players for these test matches, and hopefully they'll make it in time," he said.
"New Zealand has its own flight restrictions and we have no power over that so far our team is still in quarantine."
The Manu Samoa squad is captained by the Crusaders prop, Michael Alaalatoa with the head coach being Vaovasamanaia Seilala Mapusua, assistant coach Mase Mahonri Schwalger and manager Su'a Hesed Ieremia.
Seumanu also traveled with the Manu Samoa training squad to New Zealand last Friday.
During the interview, Seumanu said Manu Samoa is preparing for all the four test matches with two against Tonga and two against the New Zealand Maori in Auckland and Wellington.
Langkilde was charged and pleaded guilty in 2018 for attacking opposition players after Samoa was defeated by Wales during the Sevens World Cup in San Francisco.
He was ordered to pay compensation to the victims and withdrew from playing rugby for a year, completing his suspension from the game in April last year.
SOURCE: SAMOA OBSERVER/PACNEWS