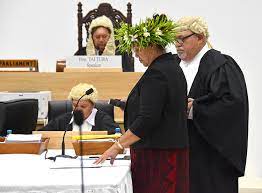 Akaiti Puna was sworn in as Manihiki's new Cook Islands Member of Parliament on Monday during a flash sitting.
Puna, who won the Manihiki seat for the Cook Islands Party by 49 votes early last month, entered Parliament for the first time yesterday as an elected MP to take the oath of office.
"I'm glad it's over, I'm glad that bits over and done with," Puna said, "it's always the worst part taking that hurdle to get into the House.
"So that's done, it's a weight off your shoulders."
She said she wants to make sure her island moves ahead.
"That's number one on the priority list," she said.
When asked if her husband, Henry Puna, the former Manhiki MP and prime minister, had given her tips on her new role, she said with a laugh: "Yes, yes, he does. He guides me and says you should do this, you should do that, so I don't trip over myself."
The Manihiki by-election held on May 5 saw Cook Islands Party's Akaiti Puna finish with 82 votes, Munokoa Maraeara of the Democratic Party on 33 and Temu Okotai who ran as an independent on five. The Manihiki seat was vacated after Henry Puna resigned earlier this year to take the role of the Secretary-General at the Fiji-based Pacific Islands Forum.
Leader of the Opposition Tina Pupuke Browne and Titikaveka MP Selina Napa congratulated and welcomed Akaiti Puna to Parliament.
There are now seven female MPs – four from the Opposition Democratic Party and three from the governing Cook Islands Party coalition – in the 24-member Parliament.
SOURCE: COOK ISLANDS NEWS/PACNEWS