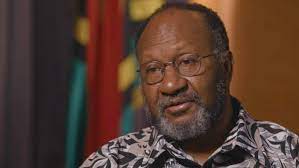 Vanuatu Appeal Court has dismissed the appeal of former Prime Minister, Charlot Salwai.
In handing down the verdict Friday, the judges said in their assessment, the sentence was thorough and can be regarded as lenient.
"For the various reasons that we have outlined, this was a very serious act of perjury by the Prime Minister of Vanuatu, directed to the Supreme Court," they said.
"Two of the three arms of the government of Vanuatu, the political and the judicial, were impugned by wrongful act. It showed that a politician at the highest level prepared to lie on oath and was prepared to deceive the court system at his highest level.
"While recognising this, the sentencing judge decided on an entirely reasonable starting point of four years imprisonment, as against the maximum available of seven years. Salwai intended his sworn statement to be believed, to his significant advantage in the court case. Because of the extent of the breach of trust given his high position, the starting point was well within the range.
"The judge then showed considerable leniency in reducing the starting point for personnel circumstances to two years and three-month imprisonment. He then showed significant leniency yet again imposing a suspended sentence. In our view, the judge gave the fullest recognition to the sadness of Salwai's fall from grace, given his previous good character"."
Judge Gus Andrée Wiltens had handed a suspended to Salwai on 03 February 2021. Salwai then appealed against the sentencing and the final verdict was handed down by six judges of the Appeal Court.
Salwai had appeared in court on December 2020, following a complaint by the then Leader of Opposition and current Deputy Prime Minister, Ishmael Kalsakau. Kalsakau stated that the former Prime Minister lied in his sworn statement that the creation of parliamentary secretary was approved by the Council of Ministers in 2013.
The sworn statement of Salwai followed the constitutional application of the Head of State on the constitutionality of the creation of parliamentary secretary.
Court ruled in favor of the President of the Republic by saying that position of parliamentary secretary was unconstitutional. Kalsakau submitted his complaint in 2019.
Following the suspended sentence, Speaker of Parliament, Gracia Shadrack declared Salwai's seat vacant in the constituency of Pentecost last month. With the final decision of Vanuatu's highest court, the Electoral Commission will announce the date of a by election on Pentecost soon. This is the first perjury case in Vanuatu's history.
SOURCE: VANUATU DAILY POST/PACNEWS