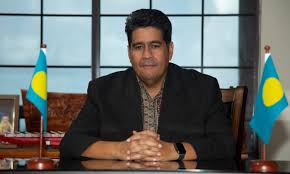 Palau President Surangel Whipps Jr, who is scheduled to visit Taiwan next week, said Monday that he has informed Beijing that Palau cherishes its relations with Taiwan and that no one should ask Palau to cut ties with Taipei.
In a special interview via videoconferencing, Whipps said Beijing had contacted him last year after he won the presidential election, trying to convince him to switch diplomatic recognition to China.
"I told them, you know, I believe that we should be free to choose who our friends are," he said. "We value the relationship that we have with Taiwan and nobody should tell us that relationship should be severed," said President Whipps.
Palau is one of Taiwan's four remaining diplomatic allies in the Asia-Pacific region, along with the Marshall Islands, Nauru and Tuvalu.
China, which sees Taiwan as one of its provinces, has been aggressively suppressing its international space, especially in the past four years as relations between Beijing and Taipei have deteriorated. Beijing has poached 17 diplomatic allies from Taiwan since 2001, including seven since President Tsai Ing-wen was elected in 2016.
The Solomon Islands and Kiribati are the two latest countries that have switched to recognising China.
On Beijing's growing influence in the Pacific region, Whipps said it was very important for Palau, as a democratic country, to maintain close relations with countries to which it shared common values.
"Palau has been fortunate to be a strong partner with Taiwan, and we want to continue to strengthen that relationship. There's no question," he stressed.
Whipps is scheduled to visit Taiwan from March 28- 01 April to launch a "travel bubble," which allows travel between the two countries with fewer COVID-19 restrictions.
Whipps is expected to meet with President Tsai, tour an aquaculture company, a shipbuilding firm, a hospital with trans-hospital cooperation with Palau, and attend a tourism exhibit promoting his country.
On the last day of his visit, he will join Taiwanese tourists on the inaugural flight to Palau under the travel bubble programme, which was announced simultaneously by both sides on 17 March.
Whipps told CNA that he was "very excited" with the upcoming visit to Taiwan and the travel bubble was "very important" to both countries.
He said both sides had spent a lot of time building confidence on the travel bubble, stressing that they wanted to prove the scheme was feasible.
"I think it's important to demonstrate to the world that this can work," he said.
Whipps was sworn in on 21 January. According to Taiwan's Foreign Ministry, he affirmed the two sides' bilateral relations with Taiwan's Foreign Minister Joseph Wu, who attended the inauguration ceremony.
As of Sunday, Palau remains free of coronavirus, according to the World Health Organisation.
Taiwan, on the other hand, recorded 1,006 confirmed cases of COVID-19 with 10 fatalities, based on the data from the Central Epidemic Command Centre……
SOURCE: CENTRAL NEWS AGENCY/PACNEWS