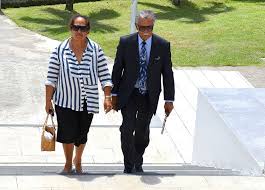 Former Cook Islands Prime Minister and Manihiki MP Henry Puna is looking forward to assuming the top Pacific Islands Forum role after the High Court dismissed the charter flight case that saw him facing fraud charges.
Incoming Secretary General of the Pacific Islands Forum Henry Puna is expected to take on his new role on 17 May.
Puna, the current Manihiki MP, and PM Mark Brown appeared in High Court last week facing charges of fraud and improper payment of public money in relation to the charter flights to Penrhyn and Pukapuka in 2018.
On Friday last week, Chief Justice Sir Hugh Williams QC acquitted them of all charges after defence made a submission of no case to answer on Thursday.
After the ruling, Puna told Cook Islands News: "My negotiations as Forum Secretary has been put on suspension, pending the outcome of this case. I volunteered to do that because I believe that's the right thing to do."
The former prime minister, who will be departing the Cook Islands for Fiji on 17 April, said he can now engage in those discussions.
Puna has indicated to the Forum Chair that he will be ready to start on 17 May.
He said because of Covid-19 and border restrictions it would take him a month after arriving in Fiji to assume his role proper at the Forum Secretariat in Suva.
Puna was voted in as the next Secretary General for the Pacific Islands Forum early last month but his selection by Pacific leaders has been marked with controversy.
Leaders from Micronesia said their candidate – Marshall Islands ambassador to the United States Gerald Zackios – was overlooked, dishonouring a "gentleman's agreement" to rotate the post evenly among the three sub-regions of the Pacific.
The Forum now looks to lose nearly a third of its members after Nauru, Kiribati, Marshall Islands, Palau and the Federated States of Micronesia decided to initiate the formal process for withdrawing from the regional bloc.
Meanwhile, Prime Minister Mark Brown is looking forward to the opening Parliament session for 2021 this afternoon.
The first order of business is swearing in of the new Speaker and appointment of the Deputy Speaker, with a couple of Bills the MPs need to go through on Monday and Tuesday.
Brown departs on Wednesday for New Zealand for a state visit to meet with New Zealand PM Jacinda Ardern. He said they have a number of pressing issues to discuss.
Brown is hopeful they will be able to make an announcement on the two-way quarantine free bubble and vaccine during his NZ visit…..PACNEWS
SOURCE: COOK ISLANDS NEWS/PACNEWS