The people of Banaba in Kiribati have received the much-needed fresh water supplies from the capital Tarawa on Sunday – after a year without clean water.
Reports reaching PACNEWS confirmed the Kiribati government-chartered vessel, LC Linnix arrived on the island with fresh water supplies, a desalination plant and materials to repair damaged water tanks on the island.
The Kiribati government responded swiftly on Friday after Banaban people on the island shared their sufferings and their desperate situation on social media, led by community leader, 68 year old Roubena Ritata.
According to Ritata, the consignment that arrived on Sunday include a new desalination plant, 6 x 500 litre water tanks, 3 x 10,000 litre water tanks, 220 empty dispenser water bottles, 80 full dispenser water bottles, 100 x 1.5 litre pure water, 200 x 500ml pure water and supplies of cements and timber to fix cement water tanks on the island that have cracked resulting from the extreme heat.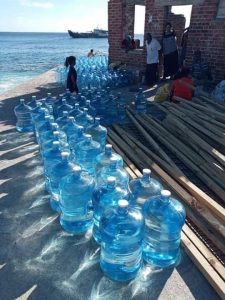 "We are very grateful of the assistance provided by the Kiribati government, donor and development partners. We also acknowledge our Banaban global civil society partners who have been sending our distress messages out from Facebook."
"This water crisis goes back years and yet we do not have a permanent solution. While we are thankful, we are calling for an ambitious rehabilitation plan for Banaba which has been devastated by 80 years of mining, said Ritata.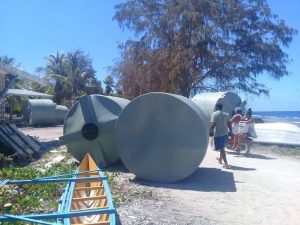 The people of Banaba have declared Wednesday 17 March 2021 a day of prayer. They will be joined by the Banaban diaspora communities in Fiji who will also observe Wednesday 17 March as a day of fasting and prayer from 6am to 6pm.
"The purpose is to bring together the dispersed population to unite in prayers focusing on the water crisis and other urgent development needs for the people of Banaba, said Moteta Corrie, a Banaban leader…. PACNEWS