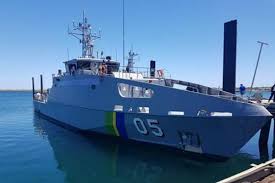 The Morrison Government has awarded TAFE Queensland a $36 million (US$27 million) contract to provide mariner training and support to the Navy crews of the Guardian-class Patrol Boats.
The funding is being delivered as part of the Morrison Government's $2 billion (US$1.5 billion) Pacific Maritime Security Programme to strengthen maritime capability in the Pacific.
The Acting Minister for Defence, Senator Marise Payne said the Pacific Maritime Security Programme training contract was designed to adapt and adjust, to meet the needs of our Pacific partners.
"A modern and innovative training approach offered by TAFE Queensland will have significant strategic benefits in the Pacific," Minister Payne said.
"TAFE Queensland has already established important relationships and arrangements with the Commonwealth and Pacific Island country governments, industries and communities.
"This, coupled with their established infrastructure in Australia and experience in delivering services in the Pacific, will enable TAFE Queensland to help achieve the outcomes of the Pacific Step-Up Programme and the Pacific Maritime Security Programme.
"This contract builds upon the success of the previous Pacific Patrol Boat training services contract, by providing new contemporary training for the Guardian-class Patrol Boat crew."
Attending the contract signing in Cairns, Member for Leichhardt, Warren Entsch welcomed today's announcement.
"I am thrilled that TAFE Queensland has been awarded this significant contract which will bring economic benefits to the region," Entsch said.
"Cairns is ideally located to mount and sustain maritime patrol and hydrographic operations, and the base is well served by the local Cairns ship repair industry.
"This five-year contract will generate 24 new jobs in the region in addition to the more than 400 direct industry ship sustainment jobs in Cairns which are already supporting the Morrison Government's naval shipbuilding and sustainment plan.
"Being located near the broader Cairns Maritime Precinct will allow TAFE Queensland to access and support local companies in Cairns, which comes at such an important time while the economy recovers from the impacts of COVID-19."
Under the Pacific Maritime Security Programme, Australia is replacing the existing Pacific Patrol Boats with 21 new Guardian-class Patrol Boats to 12 Pacific Island nations and Timor-Leste to enhance regional maritime capability and capacity…..PACNEWS
SOURCE: AUST GOVT/PACNEWS