National Invasive Species Coordinator of the Tonga Ministry of Meteorology, Energy, Information, Disaster Management, Environment, Climate Change and Communications (MEIDECC), Viliami Hakaumotu and has been honoured as the 2023 Battler of the Year.
Described by David Moverley, SPREP Invasive Species Adviser, as one of the most eagerly anticipated events on the calendar, this year's Pacific Invasive Species Battler of the Year award ceremony holds special significance being observed in person and celebrated by regional invasive species practitioners and professionals.
"We are very lucky to have so many great people in the Pacific who are willing to step up and act in our fight against invasive species, it makes deciding who will get the award each year very difficult" said Moverley. "However, in 2023 there was a clear winner, the substantial amount of work and progress that Viliami has got through over the past eleven years beginning with creating Tonga's first National Invasive Species Strategy and Action Plan (NISSAP) and then a decade of its implementation is indeed a legacy for Tonga. We are all very proud of Viliami and what he has achieved for the people of the Kingdom."
For more than a decade, Hakaumotu has played a pivotal role in coordinating operations to restore biodiversity at priority sites in Tonga such as the successful rat eradication on islands in the Vava'u island group, including Maninita, Lua Loli, Fangasito, and Luahaipo. This impactful work has led to the resurgence of seabird populations and increased productivity in local coral reef systems, supported by scientific studies indicating a potential 50 percent increase in fish numbers.
Hakaumotu played a key role in the Mt Talau Restoration project from 2015 to 2023. This initiative aimed to protect and protect the forest on Mt Talau which is one of the few remaining low-land tropical forests in Vava'u, and houses precious endemic species, including the Hengahenga (Tongan Whistler), and the Casearia buelowii plant species endemic to Mt Talau and identified for the first time in 2014.
The groundbreaking conservation initiative led by Hakaumotu and his team to eradicate rats on Late Island in July this year was a decisive factor in securing this year's Battler of the Year Award. Late Island is a vital sanctuary for biodiversity, housing one of Tonga's largest intact tropical broadleaf forest ecosystems—a critical stronghold for globally threatened species such as the Friendly Ground-dove and Tongan Whistler.
The six-week operation carried out after a decade of groundwork, positions Late Island as potentially the largest rat-free island in the Pacific, setting a significant benchmark for global conservation efforts.
Expressing his gratitude, Hakaumotu stated, "It is with great honor that I accept the Battler of the Year Award for Tonga. My sincere appreciation goes out to my dedicated team, whose tireless efforts on the ground have played a vital role in Tonga's accomplishments in invasive species management. I also want to extend my gratitude to the Government of Tonga for their consistent support and unwavering commitment. Their ongoing dedication not only helped secure this award for our country but also signifies a promise of increased resilience for Tonga's communities and ecosystems. This award is a testament to our collaborative journey towards a sustainable and thriving future."
Hakaumotu's influence also extends beyond project coordination, as he serves as a leader for emerging talents within the government. His dedication to mentoring and supporting young teams has contributed to Tonga's strides in environmental conservation. While celebrating the achievements on Late Island, Hakaumotu emphasised that the work is far from over.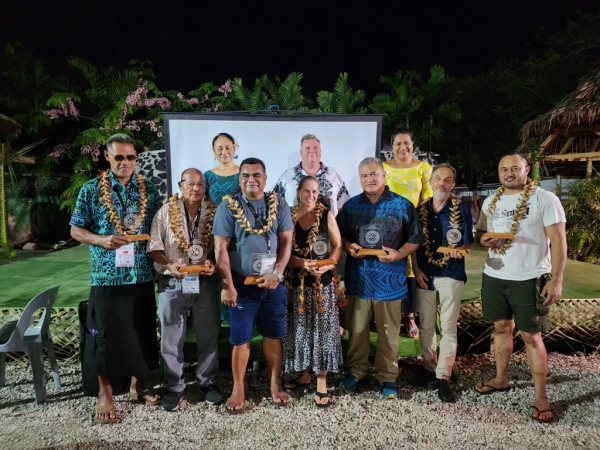 "While we celebrate this accomplishment, we still have a long way to go. Looking ahead, we now set our sights on the next goal of eradicating rats on the volcanic cones Tofua and Kao in Tonga within the next three years" said Hakaumotu. "These islands are three times the size of Late and present an unprecedented challenge, but together with the Pacific Regional Invasive Species Management Support Services (PRISMSS) and the PRISMSS Predator Free Pacific technical lead, Island Conservation, we are confident that we will achieve our goals."
The Battler of the Year Award was launched in 2017 and recognises Pacific invasive species field-based practitioners who work at the grassroots level and have achieved outstanding outcomes for biodiversity. Previously, the award was celebrated remotely through the PILN Newsletter, or more recently through the virtual Battler Lounge, but this year for the first time, the event was celebrated in person at the Opening Reception for the Fifth Pacific Invasive Learning Network (PILN) Meeting.
Former winners of the award who were present at the 5th PILN Meeting event at Siva Afi on Monday 13 November, 2023 were also formally recognised with their trophies presented by SPREP Invasive Species Adviser, David Moverley, SPREP Deputy Director General, Easter Chu Shing and MNRE Chief Executive Officer Lealaisalanoa Frances Reupena.
The fifth PILN Meeting is made possible with funding support from the Global Environment Facility funded GEF 6 Regional Invasives Project, the European Union funded PROTEGE project, the New Zealand Government funded Managing Invasive Species for Climate Change Adaptation in the Pacific (MISCCAP) project, and the Government of France through a FONDS Pacifique grant focused on regional cooperation.
SOURCE: SPREP/PACNEWS