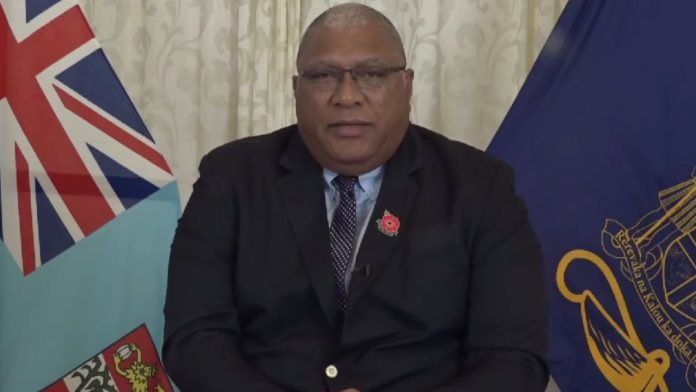 Fiji President Ratu Williame Katonivere has expressed gratitude for the contributions that have shaped Fiji's progress and modernisation.
He highlights the pivotal decision to embrace Christianity as a guiding light and the enduring commitment to multiculturalism and diverse cultures and religions.
He said Fiji, known as a progressive economy and a hub in the Pacific, is dedicated to fostering regional unity while confronting regional and global challenges.
As part of the global community, Fiji recognises its increased international responsibilities and demands respect while respecting the sovereignty of all nations.
Ratu Wiliame has emphasised the nation's unity in rebuilding Fiji, celebrating inclusivity, and empowering the vulnerable.
The theme for this year's Fiji Day, "Rebuilding Fiji Together through Empowering the People of Fiji to Foster Unity," resonates as the nation faces collective challenges with courage and faith for a brighter tomorrow.
"As we reflect on our history, I urge all citizens to celebrate the triumphs we have achieved and focus on the future. The decisions we make today will have a far-reaching impact on the future of our nation."
Reflecting on recent elections, Ratu Wiliame acknowledged the uncertain times Fiji faces in an evolving global community marked by complex issues and geopolitical rivalries.
He echoes the call for a "Zone of Peace" contribution by the Blue Pacific to world order, emphasising mutual respect and regional cooperation.
Climate change, Ratu Wiliame states, remains a pressing concern for Fiji and the Pacific, with its adverse effects displacing communities, threatening food and water security, and impacting cultural heritage.
He has stressed the need for a well-articulated framework for environmental conservation and climate resilience.
Amid global disruptions, including the Ukraine conflict and supply chain challenges, Fiji called for global cooperation to safeguard the common interests of the global economy.
The President urged multilateralism and upholding rule-based international order.
Recognising Fiji's identity, history, future, and home, Ratu Wiliame celebrated the nation's talents, especially the Fiji Water Flying Fijians, as they prepared for quarter-final games after a successful pool stage. He extended his best wishes to all sporting teams representing Fiji abroad.
"For any nation to be strong, we need a strong foundation; our foundation is our family. I call upon all citizens to protect the family unit at all costs. Protect our children, our senior citizens, and the most vulnerable. Respect one another to maintain peace, harmony and unity together as a nation."
Acknowledging past challenges and sacrifices, the President emphasised the importance of unity, civic responsibilities, and forward-looking leadership in building a better future for the next generation.
He concluded by expressing gratitude to Fijians residing abroad for their patriotism and honouring the sacrifices of UN peacekeepers and volunteers, who exemplify service to the nation.
On Fiji's 53rd year of independence, Ratu Wiliame's speech stresses Fiji's resilience and commitment to progress, unity, and a brighter future.
SOURCE: FBC NEWS/PACNEWS