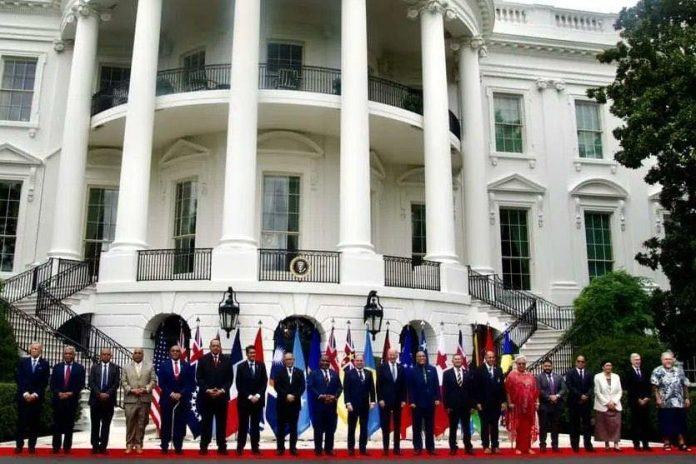 The Pacific island nations are hoping they will not have to wait another 12 months for "much-needed" foreign aid promised by the United States.
When President Joe Biden hosted more than a dozen Pacific leaders and envoys in Washington last week, he pledged US$200 million to help the region address the challenges of climate change, peace and security.
The move, some experts said, highlighted America's concerns about China's growing influence in the Pacific.
At the first summit held in September last year, Biden had promised a similar partnership strategy worth US$800m.
But 12 months on, the wait continues because Congress has yet to approve Biden's economic assistance package to the Pacific island nations.
A government shutdown was averted on Sunday after both the House and Senate agreed on a short-term funding deal until 17 November.
The measure included funding for natural disasters but made no major concessions on spending levels.
While Democrats and Republicans have agreed to work together to counter China's campaign for global influence, Republicans want to cut U.S foreign aid, which experts fear will impact Biden's Pacific plan.
In his address to the Pacific leaders, Biden said he would work more closely with them on the challenges posed by artificial intelligence, global supply chain resilience, and other issues facing the region.
The Pacific Islands Forum said Biden had promised funding for climate change, fishing disputes, and maritime security.
But Forum members have yet to receive any "real support", with one senior government official saying: "Where is the money? We haven't seen it."
Biden's Budget also proposed more than US$7 billion over 20 years to extend the Compact of Free Association (COFA) deals with Micronesia, Palau and the Marshall Islands.
"Those pacts, which grant the US military basing rights in exchange for economic support and security, are set to expire this year," said Kenneth Kuper, of the Pacific Centre for Island Security.
"If the COFA funding is not secured, the rest of the Pacific will start to wonder whether this Pacific Partnership Strategy was just a temporary phase."
U.S Department of State spokesperson Matthew Miller said they were still working through the "exact implications".
"We have to look at everything that the State Department does and determine what kind of work can continue in a shutdown, what kind of work would have to be put on hold.
But the Pacific's priorities may be the least of Biden's troubles right now.
Sunday's move by Congress excludes the Democrats' push to pass an additional US$24billion to help Ukraine fight off Russian forces in a war that's gone on for 19 months.
The president is also facing national security problems at home with the indictment of Senator Bob Menendez – chairperson of the Senate Foreign Relations Committee and close Biden ally – who has been indicted on federal charges over allegations he provided sensitive government information and secretly aided Egyptian authorities in exchange for about US$480,000 in cash, gold bars and a luxury car.
Then there's the diplomatic row between Canada and India, both key US allies, over the death of a Sikh activist in Surrey, British Columbia in June.
The India-Canada situation is particularly concerning for Biden because he has been working with India to focus on countering China in the Indo-Pacific region.
The stand-off could complicate Biden's dealings with Indian Prime Minister Narendra Modi, who jointly hosted the Indo-Pacific leaders' summit in Papua New Guinea in May, with U.S Secretary of State Antony Blinken. He replaced Biden, who returned to Washington from Asia to deal with the debt-ceiling crisis.
Blinken secured a defence agreement with PNG Prime Minister James Marape on the sidelines of that meeting, seen by many as a response to Beijing's security pacts with the Solomon Islands.
Biden pledged to work with Congress to provide more funding for the Pacific. But it's not just aid that the island states need.
Marape, who attended the Biden summit, said the region is seeking better business opportunities.
"Our combined Pacific air and water space is almost 30 percent of the Earth's surface, while our ocean holds substantial marine resources," he told a meeting hosted by the U.S Treasury Department and Business Council for International Understanding.
"Our forests and land hold rich biodiversity, minerals and other resources, while our island communities are places of huge cultural diversity.
"Pacific countries want to process their fish, coffee, cocoa, copra, timber, and minerals into finished products and sell to markets in the U.S and Asia."
Marape called for a review of the international financial architecture, saying that Pacific climate victims should be compensated and gain access to low-cost infrastructure financing and the Green Climate Fund.
Dr Mira Rapp-Hooper, special assistant to the President, told a press briefing that America's promise to renew its ties and commitment to the Pacific was not about China.
"It's about delivery on the promises that we've made in the last two years, which I think we showed in spades this week," said Rapp-Hooper, who is also the National Security Council's Senior Director for East Asia and Oceania.
"We have clear instructions from the President, the Secretary of State, the National Security adviser and many others to move out expeditiously on everything that we announced alongside our Pacific island friends earlier this week.
"We intend to literally put our money where our mouth is and deliver on everything that we seek to do together in the Pacific, whether that is providing finance so that friends in the Pacific can more quickly and readily adapt to climate change or providing micro and small loans to entrepreneurs and small businesses to allow them to contribute to increasing the dynamic Pacific economies.".
SOURCE: STUFF NZ/PACNEWS